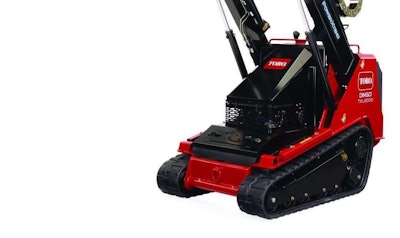 The Dingo TXL 2000 compact utility loader (CUL) in development by Toro was the talk of The Rental Show in New Orleans, with attendees eying both the size of the machine and reach of its telescoping loader arms.
Helping to celebrate the 20th anniversary of the Dingo line, the TXL 2000 offers several advantages over the compact track loaders and skid steers it will compete with, says Sean O'Halloran, Toro marketing manager.
"Getting in and out of the cab on a CTL or skid steer can be cumbersome, which leads some operations to use a second person as a spotter," O'Halloran says. "With this machine, you can get on and off the platform easily, so a second person isn't required."
Another advantage is on-platform visibility, compared to the visibility inside a skid steer or CTL cab, O'Halloran says. "On the platform, you're higher and you can easily look around and behind."
Adds Kevin Conry, senior marketing manager: "With this, you can stand up, you can see where your bucket is; you can see to pick and place materials."
If you're working near a house or building, it's a lot easier to maneuver, Conry says. You don't need the back-up camera found on bigger skid steers and CTLs to back up – you can just turn and look. And because the TXL 2000 is narrower than a skid steer or CTL, it can get into tighter spaces, he adds.
And then there are the telescoping loader arms. Fully extended, the TXL 2000 will have a hinge pin height of roughly 10 feet, giving users the ability to lift and dump material into the center of a dump truck. The extending capability also gives users the ability to safely unload all materials off one side of a flatbed, with no repositioning of the truck or machine required to get both sides unloaded.
This extra reach also comes into play with higher retaining walls, lessening the need to reposition the machine at the topside of the wall in order to place higher materials. "With the extension, you can stay where you are and build the wall higher," O'Halloran says.
But you'll have to wait
Toro anticipates the TXL 2000 will be available in late 2018 or early next year.
"We wanted to unveil it here and start creating a buzz, or a conversation, around how this machine will be used," according to Conry.
"Bigger jobs don't need bigger equipment," he says. "This can do it all."
When it is released, the Toro Dingo TXL 2000 will be positioned in the largest compact utility loader size class, which now includes the 1,062-pound rated operating capacity Ditch Witch SK 1050, 1,075-pound rated operating capacity Toro TX 1000 Wide Track, and 1,558-pound rated operating capacity Ditch Witch SK 1550.
The 'first of its kind'
The new machine is aimed for rental dealers as well as landscape and construction contractors. Potential customers were mulling at the show how they'd use the new Dingo.
"There's a lot of interest," Conry says. "This is something they've never seen as far as its telescoping abilities. This is the first of its kind."
Stepping up on the TXL 2000 platform, you can feel the flex and spring designed to bring operator comfort.
"You want a little give because rarely are you doing work on flat ground," Conry says.
There's cushioned padding in the front of an operator to lean on, as well as on the left and right sides. "There's padding so you feel like you're inside the machine. It gives you some cushion if you're leaning during rough turns," Conroy says.
The TXL 2000 controls mirror those found on the TX 1000, with the same left-hand control panel and a few added features on the right-hand joystick.
"It's very similar to our TX 1000, which has been out for about three years," Conroy notes. Because of a similar grasp on the controls of the two machines, it's easy to graduate from the smaller 1000 to the bigger Dingo, he says.
The TXL 2000 will be the ninth in the Dingo lineup, which includes tracked and wheeled models, gasoline- and diesel-powered options, and a wide range of rated operating capacities.
EDITOR'S NOTE: This article was written by Joy Powell, senior editor of Equipment World. Additional reporting by Marcia Gruver Doyle.