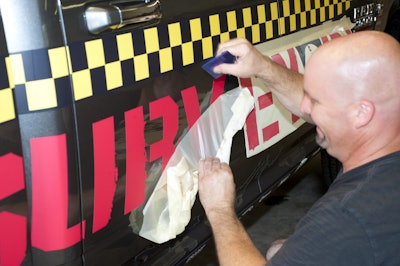 If you've viewed any of the popular car and truck makeover shows offered on cable television these days, you might get some wild ideas for decking out your company workhorse vehicle. DeLorean-style gull-wing doors, StreetGlow purple neon lighting beneath the cab and an in-dash video gaming station are one way to go, but you might consider options that can actually lead to improved safety, less downtime and ultimately, improved profits.
The beauty of the box truck
Tony Bass, along with his father Buddy Bass, founded Super Lawn Trucks in Fort Valley, Georgia, in 1998. Bass describes his vehicles as mobile warehouses and rolling billboards.
Ascribing to the "time is money" theory, Bass maintains a properly outfitted truck can eliminate a lot of squandered time. He says his trucks range from $30,000 for a single cab with 12-foot open body system up to $80,000 for a crew cab with 16-foot cargo body and top-of-the line options. Bass perfected his durable, functional truck body system during 19 years spent as owner of his own landscape design, installation and maintenance business.
"I used my landscape company as the research laboratory," Bass says. "That's where I did all the research and development. Dad and I would build stuff and then put it to use in the field and see if the guys could tear it up. If they did, we'd build it differently the next time."
Bass says most of the bodies his company builds go onto Isuzu chassis, but he also uses Ford, Chevrolet, GMC, Sterling, Mitsubishi/Hino and UD. His company matches the right medium-duty cabs and chassis with the appropriate body system, Bass says, so landscape companies can effectively transport people and equipment. He also retrofits people's existing trucks.
While many landscape trucks are spec'd with a less-expensive open metal grate dovetail bed, closed cargo space provides the added benefits of security, protection of equipment from the elements, advertising opportunities and the safety of securing debris and equipment while in transit. Another thing to consider: police are cracking down on improperly secured equipment and debris on open trucks and trailers and issuing hefty fines.
With a closed cargo box truck, equipment inside can be locked up while on the jobsite and back at the shop for the night, so no time is wasted unloading equipment only to reload it the next morning. Bass says most landscape managers report saving one hour per crew member per day by leaving the tools on the trucks. On-truck storage also reduces the need for shop space, which keeps overhead costs down.
Tool and parts storage
Like other truck body manufacturers, Bass offers a host of arrangements for organizing tools and parts. Utility shelving, adjustable bins for irrigation parts, mounts for shovels and other hand tools and overhead racks for long items such as ladders, pole pruners and irrigation pipe, are common requests. With a designated place for everything, crews are less likely to leave tools behind. Bass recommends placing fire extinguishers, first aid kits and water cooler mounts at the rear of the truck for quick access. High-use items, which will be different from landscaper to landscaper, also are placed near the back.
Side door
A personnel entry door, such as Super Lawn's 36-inch roll-up door, helps maximize productivity. Bass says landscapers who work on large sites may prefer to lock the truck and issue a key to each crew member who can retrieve tools when necessary. Landscapers who maintain accounts in urban areas or where they do not mow, often want the benefit of the personnel door to access hand-held equipment without removing mowers. Side cargo doors are also available for easy loading and unloading of palletized material by forklift.
Debris dumper
Bass developed the idea for his debris dumper to haul debris without using an open truck body, towing a trailer or cramming it inside a tidy cargo truck.
"We believe the open dovetail body is an antiquated system," Bass says. "It's like a commercial garden tractor today. They will work for cutting lawns, but not nearly as efficiently as a zero-turn mower will."
The debris dumper comes in two models, 2.5 and 5 cubic yards and fits behind the cab on both 12- and 18-foot truck bodies. While not recommended for soil, rock or other heavy debris, the hydraulic dump easily handles grass clippings, leaves and can deliver bark mulch or pine straw to the job.
On-board fuel station
With options for three tanks – diesel, gasoline and mix, crews waste less time (and truck fuel) going to gas stations for equipment fuel (as well as snacks and other sundries). It also eliminates the need for fuel cans that are easily spilled, lost or stolen. Bass found most trucks could go a week or more without refueling, but crews were gassing up equipment three to five times per week. He estimates the onboard fueling system should last a crew of three a week. Bass determined with a conservative estimate of a 10-minute pit stop three times per week for a crew of three, and a billable rate of $30 per hour for each crew member, the onboard fuel system saves $2,500 per year.
The rolling billboard
While any lettering on the side of a large cargo truck is good advertising, Bass developed a system of vinyl signs that easily slide into frames on the sides of the trucks. This is convenient for updating logos, addresses, websites and phone numbers, but Bass points out an added advantage.
"I'm building a truck now for a landscape company in Calgary that wants one sign for spring and summer to promote their landscaping, and a second sign they put on the truck in fall and winter to promote their snow removal operations," he says. "And it will cost them a fraction of what it would to rent a billboard."
Bass says other landscapers have used this sign system to promote landscaping during spring/summer, and holiday decorating services for fall/winter.
Ramping it up
It's important landscapers select a ramp sturdy enough to support the heaviest power equipment they might use. Bass patented his hydra ramp system as a dual purpose rear door and hydraulic ramp for loading and unloading equipment. He says the ramp is 11 feet long to provide a gradual incline to load equipment into trucks that typically have a 38-inch finished floor elevation. This prevents scraping mower decks and blades and is also safer.
"One of the most common worker compensation claims in our industry is slip-and-fall injuries, and many of those are from getting onto and off slippery ramps," Bass says.
The gradual incline, plus epoxy-coating with embedded aggregate, offer good traction even under wet conditions.
Underbody storage box
Mounted in an easily accessible location beneath the chassis, a toolbox provides secure storage for frequently used tools and supplies. Bass says a well-appointed cargo truck will offer storage for hand tools such as pruning saws, hand pruners and loppers inside. He recommends the storage box be used for two-cycle oil, engine oil for the vehicle, wrenches and other mechanic's tools. The 48-inch model is his most popular request.
Other custom options
For a fully decked out truck, options include air compressors, water tanks, power inverters, back-up beepers and hitches and wiring harnesses for landscapers not yet ready to give up their trailer. There are even onboard restrooms for the ultimate convenience.