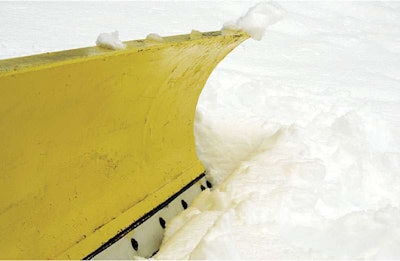 Pickup setup tips to keep you going this winter
As a landscape contractor, snowfall can be a potential revenue stream.
Turning white into green isn't that big of a work transition if you have the right equipment and know-how. The big question is can your pickup handle the rigors of plowing snow?
We talked to three experts for their take on the best pickup setup: Eric Curry, owner of RAI (Rock and Ice), and Frank Ceferatti of Shuv-It, both in Steamboat Springs, Colorado, which averages about 14 feet of snow annually, and Gordon Speck, the track and fleet manager at Bridgestone's nearby Winter Driving School.
Pickup picks
They all agree commercial plowing requires a 3/4- or 1-ton vehicle.
Although a 1-ton's dual-rear wheels (DRW) can carry more weight in salt hoppers and spreaders, the wider track necessitates a wider plow to avoid running into your own banks. Duallys are also less maneuverable than single-rears of the same wheelbase, and a medium-duty truck's 19 1/2-inch tires have fewer winter tire choices.
A cab-and-chassis with a staked flatbed or dump body will work and has no bed bodywork to get damaged by the snow and ice chunks trailing off of the front.
In new full-size, 1/2-ton pickups, GM offers a snow-plow prep package. Toyota, Nissan and Ram do not recommend plowing with their respective Tundra, Titan and Ram 1500.
Ford dropped the snow-plow prep package from the 2011-and-newer F-150 because of electrical requirements associated with the electric-assist steering; many plows have peak draws near 250 amps. Losing steering assist while plowing because of it could be problematic.
Some plow packages are merely an alternator and skid-plate upgrade. Others are more comprehensive and have included heavier front springs, fan clutch, accessory power supplies and wiring harnesses and a larger grille or bumper opening. These factory upgrades are well worth the nominal price (about $150-$400).
Weighty considerations
No matter which truck you choose, don't forget axle weight ratings: A sizable plow will add 1,000 pounds or more to the front axle weight, so a luxury long-cab diesel may not have the load capacity to handle the equipment.
Likewise, pay close attention to gross vehicle weight rating (GVWR) and rear gross axle weight (RGAW) limitations. You'll be adding ballast for the rear axle, and with extra tools, parts or a fuel tank, a plow setup could push your pickup to be overweight. Overweight leads to failed parts – and no warranty coverage.
As for the engine, many drivers enjoy the torque and horsepower of newer diesels, especially at altitude. But a gasoline engine's slightly better cold-starting capability, lighter weight, quicker warm-up and lower operating costs may make your business decision favor gas over diesel for a dedicated plow pickup.
Setup to plow
The first modification to consider is a plow. Our sources named the usual choices – The Boss, Fisher, Meyer, Sno-Way and Western — and unanimously thought a good parts supplier or dealer support is just as important as brand.
Straight-blade and V-plows each have their advantages. Make sure the cutting edge is easy to replace and they are equipped with a blade-topper to limit blow-over. If you envision using the plow(s) on multiple trucks, easy on/off should factor prominently. If you do a lot of off-road work, check the effect of the mount on your approach angle.
Many plow manufacturer websites will match a plow to a truck, specify what factory options are required and include a ballast calculator.
If your truck didn't come with a plow package, there are some things you can do to help it survive, but note the changes may void some warranty coverage on trucks still in the warranty period.
Every GM plower we spoke to using single-rear 3/4 or 1-ton vehicles upgraded the pitman arm and turned up the torsion bars to help level the front end; other upgrades include idler arms, steering joints, knuckles, A-arms and hardened wheel bearings. We also found no pattern of specific parts failing on solid-axle Ram or Super-Duty, but bushing, suspension and steering upgrades are available if you identify a weak spot.
Suspension upgrades
Many operators add front air helper-springs like those from Firestone or Timbren rubber springs, while some have installed front air shocks. Air bags and rubber springs will help level the truck, but do not increase RGAW or GVWR.
Air shocks are a half-hearted fix because shocks are designed only to control a spring, and the mounts are rarely intended to carry weight.
Speck, who hates to see front tires buried in the fenders, uses a mild Energy Suspension leveling kit and bushings on his solid-axle F-250. No steering modifications have been made.
Ford and Ram solid axles may be easier to lift and align than IFS suspensions, but whatever truck you are setting up to plow, the primary goal is having it level with the plow on and high enough that a lifted plow can clear sidewalks and curbs – both to avoid colliding with and ease back-dragging off of them.
Electrical upgrades
A plow system can pull 250-amp loads. Defrosters are going full tilt, and there are lots of lights on.
So dual batteries, even on gasoline trucks, are highly recommended.
A high-output alternator — from the factory, the aftermarket or in addition to the standard unit — is a good idea, too; some newer diesels are available with dual alternators.
Lighting the way
Most plows offer headlight systems for the factory pieces they cover. Ideally, you'll have wide-beam lights for large parking lots and more-focused driving lights if you do roadways or driveways longer than a couple hundred feet.
Most pros find high-grade amber lamps, such as those from Hella and PIAA, generate considerably less glare off of snow than white lights. A good wide-beam flood on either side or the rear provides full-circle coverage, though your state's lighting regulations should be consulted before on-road operation.
Warning lights come in a variety of sizes, styles and shapes. Strobes, such as Whelen's Vertex LEDs with 180-degrees of visibility, work efficiently mounted on the side corners of your pickup.
Traction
There are two camps in tires, one using all-terrains for year-round operation, the other in favor of dedicated winter tires.
All of our experts stick with the stock or near-stock rolling size and run near or at sidewall max pressure, so tires dig through rather than float over snow.
Winter tires have a tread designed primarily for snow and ice, rather than all types of terrain, and rubber compounds specific for sub-freezing temperatures attracted to water in its various states.
Studded tires are a plus if your routes get a lot of ice, and chains can be used, though our guys use them only on the rear and in extreme cases. Most of our sources who use all-terrains use Cooper tires, with Bridgestone, Michelin, Yokohama and BFGoodrich being the only others cited.
Balance basics
After dropping a plow on the front, equalize the other end for traction, vehicle dynamics and wear. Pickups have a bigger, stronger rear axle than front, so you want that end pushing just as hard.
RAI's Curry has 100-gallon fuel tanks (720 pounds plus the tank) in his extended-cab short beds, and he uses chains in back for heavy, wet snow. Speck's F-250 SuperCab long bed has a 700-pound tank and a 400-pound rear bumper.
Have a backup plan
A selection of spare parts such as hydraulic fluid and hoses, solenoids and relays can often get you back on duty quicker, and the usual road safety gear should be on board.
Experts also mentioned Rain-X for windows, lights and the plow, wiper-arm tensioners that press the blades against the glass, and towing and recovery hardware.
Every one said the best thing to have is a backup plan for "when," not "if," something goes wrong.