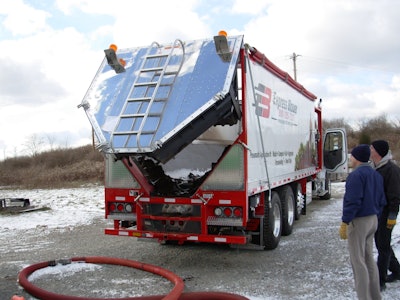 Advanced Machine & Engineering (AME) and Hydrotech worked with Finn Corporation to increase safety and efficiency on jobsites.
The collaboration was to implement the use of AME's Amlock rod locks onto the interior side of the lift gate of Finn's pneumatic blower trucks.
The hydro seeding and blower trucks disperse a variety of materials, including seed, straw, mulch and gravel, through pneumatic applicators, fed by powered augers and conveyers in the truck bed.
To access the truck interior, operators had to go a rear hydraulic lift gate. Until recently, two people operated the gate – one operating the hydraulic power unit and another climbing under the open gate to set a steel prop rod into place. The door would then be lowered into contact with a mechanical stop to hold the door open at various heights for troubleshooting, routine maintenance and media inspection.
At the request of Finn, Hydrotech engineers began to explore the possibilities available for mechanically locking the cylinder rods in place automatically without using the prop rod as well as a loss of hydraulic pressure and contacted AME for assistance.
The Amlock rod lock is a "power off" mechanical rod lock. If the directional valve is de-energized, the hydraulic hose breaks, or other loss of hydraulic pressure occurs, the rod lock mechanically holds the rod in place, securing the lift gate position.
A shuttle valve is used, since the cylinders are double acting, to feed the pressure side to the directional valve. In normal operation, when the valve is energized, the rod lock releases.