Vinyl wraps have dual benefits: protecting vehicle paint and promoting your company
While many landscaping company owners cringe at the thought of spending between $2,500 and $5,000 to have a vehicle wrapped with creative art advertising their business, it's a good investment.
Market studies show the payoff is many times greater than the initial cost.
According to JMR Graphics, a designer of promotional car wraps and fleet graphics in the United States, vinyl wrapping has many benefits: It protects the paint of new vehicles, modernizes older vehicles and advertises company messages.
The Outdoor Advertising Association of America (OAAA) states that vehicle wraps outperform billboards by 7,200 percent and radio by 5,600 percent.
The beauty of a vinyl vehicle wrap is it's working even when the vehicle is parked.
There are different types of vinyl wrapping, and the right choice depends on the business's goals.
JMP says if a company simply wants to protect its vehicles, clear vinyl wrapping may be best. Clear wraps prevent vehicle paint from fading and shield vehicles from minor scratches.
They preserve the original paintwork by coating it with a protective layer. The underlying color remains vibrant despite environmental pressures and age. And the newest wraps can be easily removed without leaving residues or damaging the underlying paint.
Colored vinyl wrapping is more appropriate for businesses that want to take advantage of mobile advertising: It is a highly adaptable strategy because companies can change colors and finishes at one-third the cost of an entire re-spray.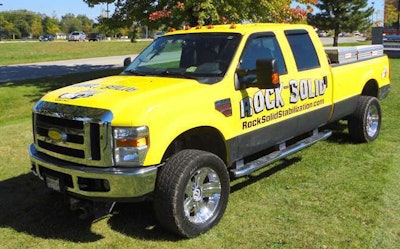 Experienced car wrap developers will implement the latest trends in graphic design. Company fleets will look modern and brand new.
Besides the outward appearance, experienced designers understand effective marketing strategies. No matter what the promotion, your company will get the most out of its fleet graphics.
Studies show that car wraps are the most affordable tools for promoting a brand outdoors. A vehicle with a graphic wrap can generate thousands of impressions daily.
Advertising wraps typically include the logo, contact details, tagline and attractive imagery, enabling the car or trailer to spread your message continuously.