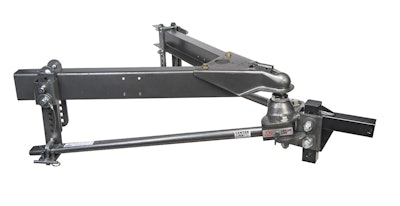 Husky Towing Products launched the Center Line TS weight distribution hitch system.
The Center TS combines weight distribution and sway control in a lightweight design.
Husky's engineers employed 1035 steel in a single piece, forged top plate complemented with trunnions of hardened 1045 steel. Used in conjunction with the head design, these materials complement each other to provide the right amount of clamping force to assist the spring bars and lift brackets in resisting sway.
The lift brackets, head and spring bars were also designed to work together to promote a quiet and smooth ride.
The hitch ball comes pre-installed, and the lift tool can load and unload spring bars as well as tighten the lift bracket bolts.