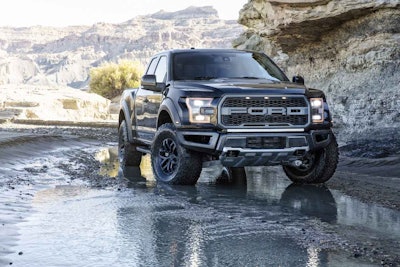 Ford has announced that it is expanding the availability of one F-150 feature that takes cues from hybrid electric vehicles.
Auto Start-Stop, first available on the 2015 F-150, and initially only on models equipped with the 2.7-liter EcoBoost V6, will now be available on 2017 models equipped with the 3.5-liter EcoBoost as well—including the 2017 Raptor.
Just in case you haven't tried the feature out yet, here's how it works.
The feature is engaged by default on applicable F-150s upon startup. When the driver brakes and comes to a complete stop, the engine automatically shuts off. A light on the instrument cluster lets the driver know when that happens.
And when you let go of the brake pedal, the truck restarts with no delay. However, because climate control, radio and other functions are never interrupted and the whole process is so seamless, it's possible to be completely unaware the engine has stopped and restarted at all. You can get an idea of just how seamless in this video.
If the number of starts and stops sounds worrisome, Ford says the truck equipped with a "heavy-duty starter and battery to compensate."
Ford says the feature doesn't always shut the engine off, however. If the engine is still warming up, if the outside temperature is too hot or cold or if the heat and air-conditioning in the truck is in high use.
Plus, if you're towing a trailer or using the 4-high or 4-low feature of the four-wheel drive system the start-stop feature shuts off.
Ford says based on the rate of uptake in F-150 models equipped with EcoBoost engines, trucks equipped with Auto Start-Stop could soon represent more than 60 percent of its truck lineup.