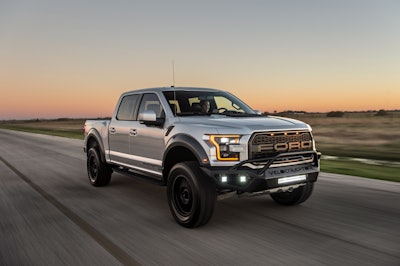 John Hennessey didn't mince words following his ¼-mile run in a 2017 Ford F-150 Raptor.
"This truck is badass," Hennessey says in a video posted below. "We all kind of expected that anyway, but I was not expecting 0 to 60 in 5.3 seconds. I was not expecting horsepower and torque curves on the Dynojet chassis dyno that are in some cases a 100 foot pounds more than the V8 Raptor, the 6.2 liter."
With Hennessey Performance's new VelociRaptor 600 upgrade, Ford's EcoBoost 3.5-liter twin turbo V6 engine gets bumped up from 450 horsepower and 510 lb-ft. of torque to 605 horsepower and 622 lb-ft. of torque. The increased power and twist yield a 0-60 mph time of just 4.2 seconds while running down the ¼ mile in just 12.9 seconds at 110 mph.
"Our last VelociRaptor 600 was very popular with our V8 Raptor customers," Hennessey, founder and CEO of Hennessey Performance, said in a company press release. "We are very excited about our latest upgrades for the twin turbo EcoBoost V6 engines and for our clients upgrade who want even more power, performance and off-road capability from their new Raptor trucks."
Power is increased by additional airflow coming from higher flowing twin turbochargers which breathe through a lower restriction intake system. The compressed air, at higher boost pressure (21 psi vs 18 psi stock) is fed through a larger, more efficient air to air intercooler system and then into the intake tract and motor.
Exhaust from the turbos exits via a free flow true dual stainless steel exhaust system. Revised tuning of the factory engine management system allows the VelociRaptor to deliver increased power and performance while retaining factory-like drivability.
"It's got a nice sound," Hennessey admits in the video. "People bag on the EcoBoost V6, but it's growing on me. From a performance standpoint, I'm sold. I'm absolutely sold."
The VelociRaptor 600 twin turbo upgrade comes with Hennessey's 3-year/36,000-mile limited warranty.
"We only plan to build 100 units for the 2017 model year," Hennessey explained. "Our customers like having something special and exclusive as well as fast and fun to drive."
The VelociRaptor 600 upgrade costs $22,500 installed at the Hennessey facility in Texas and can be ordered directly from the company or local Ford dealers.
The team at Hennessey is also offering a special VelociRaptor Off-Road Package which includes heavy duty front and rear bumpers, LED lights, 20-inch Hennessey wheels with 35-inch Toyo tires and an overall lift of 3 inches. This system is available by itself or as an additional option to the VelociRaptor 600 package. Cost for the VelociRaptor Off-Road package is $12,995 installed.