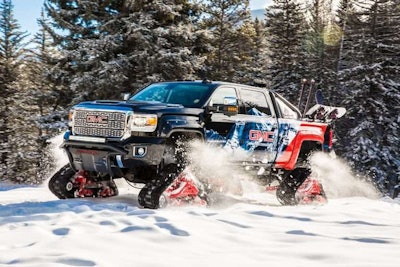 General Motors appears to slowly be amassing a fleet of pickups focused on snow applications. The automaker's recently unveiled 2018 GMC Sierra 2500HD All Mountain is its latest concept pickup and follows the Chevrolet Silverado 2500HD Alaskan Edition which was unveiled at the 2016 SEMA show.
Unlike the Alaskan, whose custom plow is meant to remove snow from your path, the Sierra All Mountain is designed for simply gliding over the white stuff.
GMC calls it a "one-of-a-kind snow-climbing machine." In non-marketing speak that means it has Mattracks-built tracks where the tires usually go.
This concept truck package is built upon a Sierra 2500HD Denali 4WD Crew Cab powered by the beastly 6.6-liter Duramax diesel V8 which produces 445 horsepower and 910 lb. ft. of torque. The engine is paired with an Allison 1000 six-speed transmission.
In addition to the 150 Series tracks from Mattracks, the All Mountain features the following:
Wheel well and underbody LED lights
Snowboard Racks, associated accessories by Thule
Amplifier and Dual Pod Speaker Kit, associated accessories by KICKER
RIGID E-Series 30-Inch Light Bar
Soft roll-up tonneau cover by Advantage
The truck is just a concept for now and GMC hasn't said whether it will actually offer it as a real package. However, the Silverado Alaskan package started out as a concept too and Chevy now offers that as one of its many Special Edition packages (though with a slightly different plow blade) at dealers across the U.S.
EDITOR'S NOTE: Wayne Grayson is the online managing editor of Equipment World, another Randall-Reilly publication.