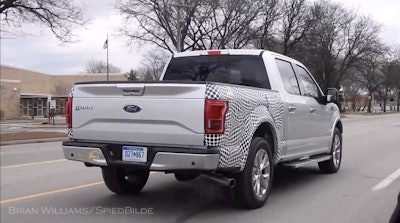 Nothing screams hello in traffic like a new aluminum F-150 with black polka dots.
Especially one that sounds like a diesel.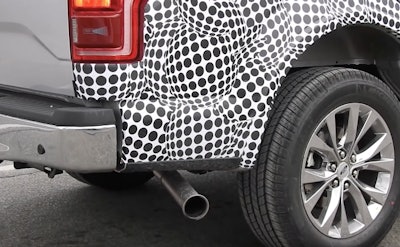 After seeing a few photos of a similar diesel-toting prototype back in December, a recently released video, first seen on Car and Driver, features a Ford F-150 moving through traffic in Detroit making some interesting noise. Doubtless, that familiar growl heard on the video gives away the test vehicle's diesel engine. The next question then is…what diesel is Ford testing?
It could be a close relative of the 3.0-liter turbo-diesel that Ford developed with with PSA Peugeot-Citroen. The 254-hp V6 engine, which generates a respectable 440 lb-ft of torque, can be found in some Range Rovers in the U.S. and has been referred to in the past with the codename "Lion."
The Car and Driver article also points out that Ford Transit's 5-cylinder, 3.2-liter turbocharged diesel engine could also be used to push along an aluminum F-150, albeit with less horsepower and torque.