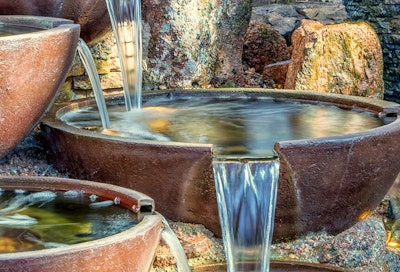 People have been adorning gardens with accent pieces for centuries. Ancient Greek and Roman courtyards and old English gardens featured fountains, pottery, statues and other art forms as focal points. While these elements evolve through the years and particular types rise and fall in popularity, they endure as classic components of the garden, says landscape architect Carol Macht, a principal and founding partner of Hord Coplan Macht in Baltimore.
Water renaissance
Recently, Macht's clients have been asking for accent pieces that incorporate water into the landscape. Such features can be as simple as a wall-mounted basin ordered from a catalog or as elaborate as an in-ground fountain with a heater, circulation system and filter. "People seem to be newly enjoying the notion of water in the garden," Macht notes, mainly because it isn't static. "They like the sounds and the different ways it reflects light."
Pondless waterfalls and small ponds – 3 feet by 4 feet or smaller – are increasingly popular, says Nick Tamble, president of Lawn and Landscape Gardens in Circle Pines, Minnesota. Homeowners who don't have the time or budget to maintain a traditional pond are finding these modified features provide the things they want – movement and sound that cloaks noise from traffic and other external sources – without the hassle of fighting algae and the expense of running a large pump 24 hours a day. They're also safer for families with small children.
Versatile metal
Melissa Galt, an interior and exterior designer based in Atlanta, says metal accent pieces, which sport "a wealth of living finishes," are in big demand. "They age to a gorgeous patina," she says. "You never know how it's going to turn out. That's the cool part." Because metallic finishes aren't present in the landscape, metal is a great material to juxtapose with the natural elements of wood, stone and color, Galt says.
Metal accents span the spectrum of architectural styles, she says, ranging from Victorian ironwork with intricate scroll patterns to clean-line, contemporary pieces in stainless steel. And there are few limits on the types of objects you can use to accentuate a landscape. Examples include metal trees, which can be freestanding or attached to a wall and often hold candles in their branches, birdhouses with metal roofs, farm implements, antique bistro tables and chairs, which create slice-of-life vignettes when tucked into garden nooks, and traditional to modern sculpture.
Galt is fond of using antique gears and cogs both indoors and out. She recently mounted a series of them to a fence, producing a 3-D collage, and says you can place large gears in a landscape the way you would boulders.
Personal taste
The Ginko-leaf sculpture is a fitting addition to the landscape Macht used it in but would look out of place in most others. That's because reflecting an owner's preferences and tastes, and the style of existing architecture, is especially important when choosing garden artwork. "People always want something different," Tamble says, "something that's going to fit their personality, their hobbies."
The closer you tie art pieces to your clients' experiences, the better, Galt says. "It's all about the homeowners – their family, their travels and interests," she says.
To do this, Macht recommends asking clients to collect photos of things they like before meeting about the project. Review the pictures and ask detailed questions during the meeting. Learn their professions, hobbies, where they've traveled and take note of their home's interior style and artwork, Tamble says. This should tell you enough about their tastes to make appropriate suggestions for outdoor accents.
Finding unique art
Local craft festivals are some of the best places to find one-of-a-kind garden art, Tamble says. At any festival in the Atlanta area, Galt says there are five to 10 artisans who specialize in outdoor accent pieces. Collect business cards and keep the artwork in mind when interviewing clients.
Galt says antique dealers, architectural salvage stores and flea markets are fertile ground for unique finds as well. She also recommends searching home and garden décor catalogs such as Signals, Shop Wright, which features reproductions of sculptures and other garden accessories designed by her great-grandfather, Frank Lloyd Wright, and Wisteria, which offers antiques from all over the world.
Don't be afraid to try something unconventional, like turning an old chair into a planter or asking an artist who does paintings to create something for the outdoors. "You have to have a sense of whimsy," Galt says. "Essentially, it's how can you take elements that are usually on the inside of a home and do something creative with them to spark interest and conversation outside the house."