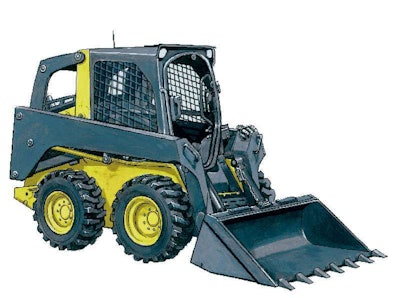 In many cases, compact wheel loaders and skid steers can be viewed as interchangeable, but could one be more useful to your business than the other? Here are four areas to consider when choosing which machine to add to your equipment fleet.
1. Size and steering
"The main differences between skid steers and compact wheel loaders are their size and the way they turn," says Pierre-Laurent Verdon, Caterpillar skid-steer loader and multi-terrain loader marketing. "Skid steers are smaller and turn with tires on one side of the machine running while the tires on the other side stop, causing the machine to pivot turn. Compact wheel loaders are usually larger in size and have articulated steering."
Due to their size, skid steers sit lower to the ground and have a tighter turning radius while compact wheel loaders have a higher ground clearance and the articulating end causes the machine to swing wider.
A skid steer's compact size makes it great for sites where space is limited and maneuverability is critical. Compact wheel loaders are beneficial on larger jobsites, especially when truck loading is involved or pallets need to be carried long distances.
Steering methods also differ with skid steers featuring joystick controls and compact wheel loaders using an actual steering wheel, says Jim Hughes, brand marketing manager, Case.
The skid steer's cab design can cause safety issues, says Bill Gearhart, product and marketing department manager, Yanmar. To get in and out of the cab, an operator has to climb over the bucket.
Brian Rabe, Gehl's all-wheel steer loader product specialist, says differences in operator stations also equate to differences in visibility. Skid steers have limited 360-degree visibility, while compact wheel loaders offer perfect 360-degree visibility.
2. Ground disturbance
Skid steers are designed to turn while skidding, which can damage turf. The articulating end and larger tires of a compact wheel loader make it better for this type of work, but Hughes says if ground conditions are soft, loaders can also inflict turf damage. Hughes says there are ways to operate skid steers to alleviate the ground pressure. "Slow down and make gradual turns instead of making abrupt turns at full power," Hughes says. He adds that while it may take longer to do the job with a compact wheel loader, you should factor in the time it takes to repair turf damage from a skid steer.
3. Attachments
"Both machines offer multiple attachments, but compact wheel loader attachments are typically machine-specific, whereas skid-steer loaders have a universal attachment type allowing most attachments to fit and operate regardless of model or brand," Rabe says."For attachments that require high-flow hydraulics, skid-steer loaders are available with a high-flow option," Hughes says.
4. Fuel usage and transportation
"There are some machines and engines that do have better fuel economies than others, but that is a point where you would want to look at projected usage," says Kelly Moore, product manager, Mustang."The wheel loader beats the skid loader in fuel efficiency as it requires less horsepower to perform the same tasks," Rabe says.
A trailer will usually be needed to transport both machine types, though depending on horsepower and the proximity of the site, some machines can be driven short distances.