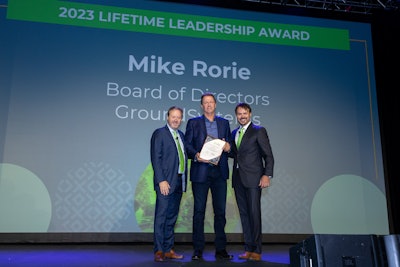 NALP
The National Association of Landscape Professionals (NALP) held its annual conference and expo, ELEVATE, in Dallas, September 10-13, 2023. The conference attracted record numbers with a 42 percent increase in contractor attendees over the inaugural conference last year. The event also raised more than $60,000 for the NALP-PAC and nearly $200,000 for NALP's Foundation.
"Our second ELEVATE event was even better than the first," said Britt Wood, NALP CEO. "We are thrilled to be receiving rave reviews from attendees which means that we are delivering on our promise of inspiring and relevant education and in-depth networking with top CEOs and professionals that makes ELEVATE the premier industry conference."
NALP also presented its annual leadership and landscape project awards at ELEVATE.
This year, 194 projects received an Award of Excellence from NALP. The awards honor outstanding landscape management, landscape contracting, design-build, lawn care, and interiorscape projects. View a list of winners.
In addition, each year, one or more outstanding projects receive a prestigious Judges' Award. This year, Mariani Landscape received a Judges' Award for their "Multi Level Living" project located in Chicago.
ELEVATE received support from top partners John Deere (Platinum), Caterpillar (Silver), and Envu (Silver).
Next year ELEVATE will be held in Charlotte, North Carolina, November 3-6, at the Charlotte Convention Center.