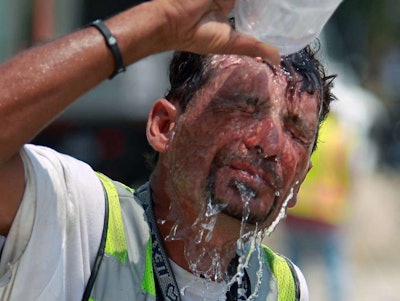 Note: This story, which first ran August 14, 2017, was updated June 21, 2022, to reflect new links, prices and products.
There's no real secret to keeping cool, but if you want to go the extra mile to beat the summer heat on the jobsite, there are plenty of gadgets available to help.
They range from the simple neck band to a full-out fan-cooled jacket. Below, we list 29 products we've found online that might be of interest to construction workers.
At the end of the article, we also provide OSHA's recommendations for what employers and their workers should do for a safe summer jobsite.
Face covers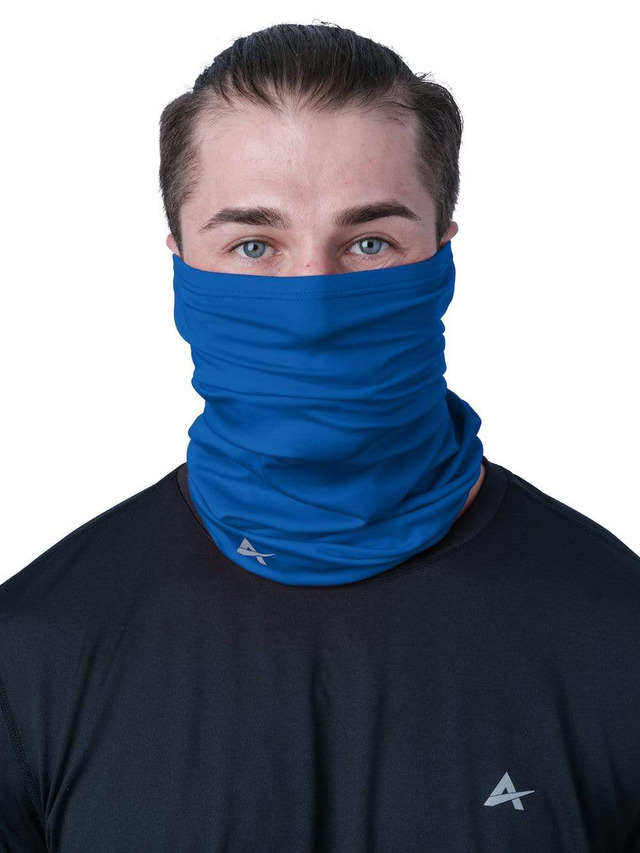 Arctic Cool Headgear Gaiter
Cooling Headgear Gaiter: Arctic Cool says it uses "HydroFreeze X Technology" to chill your body as you sweat and to wick moisture from you. The gaiter can be worn 12 different ways, the company says, including as a mask. Cost: $18.
Wicking & Cooling Neck Head Gaiter Face Cover by OccuNomix: The Industrial SafetyGear website says this product provides dust, debris, heat and UV protection. It is designed to wick moisture and provide evaporative cooling, the company says. Cost: $7.54.
Milwaukee Tool Workskin Performance Neck Gaiter: Constructed with moisture-wicking fabric with an adjustable rear drawstring, it is designed to dry fast. It also has UPF 50 sun protection and anti-microbial treatment to prevent odors and bacteria buildup. Available in red and gray. $16.97
Cooling Gaiter/Face Cover by Mission: The company says the neck gaiter and face mask can cool to 30 degrees below body temperature in under 30 seconds after being wet, wrung out and snapped. It is designed to stay cool up to 2 hours and then can be wet again. It also provides UPF 50 sun protection. Cost: $10.
Headwear
Chiller Body: This freezing gel pad fits inside your hard hat or other hat. It has two sides: one with a soft fabric for a "gentle cooling experience" and the other side is "Extreme Chill." the pad is reusable and molds to your head shape. It's also sealed so it doesn't get wet or damp. It is sold as a two-pack. Cost: $39.95.
Pyramex Safety Hard Hat Brim with Neck Shade: Fits on the outside of cap style and full brim hard hats. Made of soft lightweight, hi-vis material and designed to block sun from your face and neck. $10.86
Sponge Sweatband by Hi Vis Supply: The cellulose sponge attaches to the forehead under a hard hat with an elastic band to absorb sweat. Cost: $9 for 25-pack.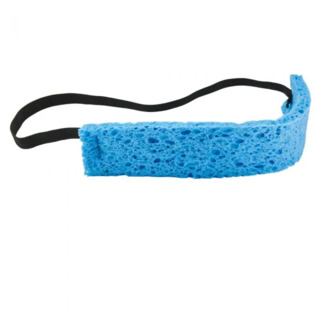 Sponge Sweatband by Hi Vis SupplyChill-Its Cooling Headband: Ergodyne's new headband is designed to stretch to fit most head sizes. It can be wetted for cooling. When dry, it absorbs sweat and whisks moisture away. It provides UPF 50+ sun protection. It also can be worn under a hard hat or hat. Available in Hi-Vis lime and orange, as well as other colors. Machine washable. Cost: $6.55.
Miracool Hard Hat Pad by OccuNomix: The pad fastens with hook and loop and rests in the interior middle of the hard hat. It is designed to allow air movement inside the hat. Cost: $4.
NoSweat Hard Hat Liner by NoSweatCo: This disposable liner, which can be put in a hard hat, is made of "SweatLock technology" to wick away sweat from the forehead, keeping it from your face and eyes. The company says all 31 National Hockey League teams are customers, and lists as its customers athletes in the NFL, MLB, PGA and WTA. Cost: $12.95 for three-pack.
Magid Cool Powered by Mission Hi-Vis Cooling Skull Cap: Cools in under 60 seconds and keeps cool for up to 2 hours, company says. Fabric cools to 30 degrees below average body temperature, and mesh top delivers even more cooling power, according to Mission. To activate, wet thoroughly with water, wring it out and snap (repeat to reactivate). Also has UPF 50 sun blocking. $9.10.
Neckwear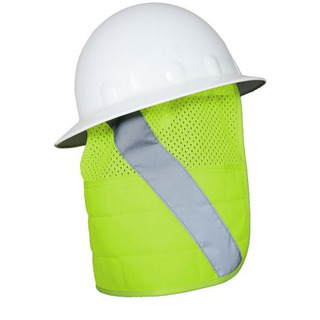 ML Kishigo Neck ShadeNeck Shade by OccuNomix: Made of cotton, the neck shade can be worn alone or under a hard hat to protect from the sun. It has a terry cloth sweatband at the forehead. Cost: $6.30.
Pyramex Cooling Beaded Bandana - American Flag: To get this neck or head bandana cool, soak it in water then knead to spread cooling gel. Polymer crystal beads provide heat stress relief, the company says. It is reusable and machine washable. $22.44 for pack of 12.
ML Kishigo Brisk Cooling Neck Protector by Hi Vis Supply: The protector attaches to the inside or outside of a hard hat. First, submerge it in water for 1 to 2 minutes and squeeze out excess water. The company says cooling lasts 5 to 10 hours. $9.50.
T-Shirts
Illuminator Class 2 Breathable Knit T-Shirt by Galeton: The lightweight shirt is made of wicking fabric and has chest pocket. Meets ANSI Class 2 standards with 2-inch reflective tape. Cost: $7.75.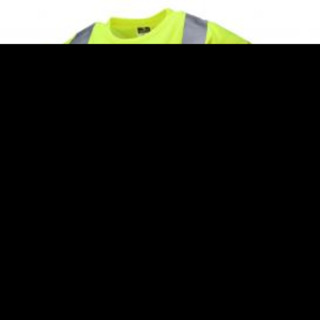 Radians Mesh Safety ShirtWorkskin Lightweight Performance Shirts from Milwaukee Tool: The T-shirts, which come in high-visibility colors as well as red and black, are made of 100% polyester for fast drying and moisture wicking. They are lightweight and designed to provide UPF protection. $24.97.
Radians ST11 Type R Class 2 Mesh Safety Shirt: The shirt is designed to wick moisture and accelerate evaporation, says the FullSource website. The reflective stripes are adhered by heat transfer rather than sewn on to make it feel more like a regular T-shirt. It also has a front pocket. Cost: $11.
Arctic Cool Cooling Pocket Safety Workwear T-Shirt: ANSI Class 2-certified, the polyester-blend shirt has "HydroFreeze X Technology" that the company says reduces fabric temperature. It also is designed to wick away moisture "that pulls sweat away from the skin and disperses it through the shirt." It is designed to fit loosely and has "4-way stretch." It is also antimicrobial and has UPF 50+ sun protection. Cost: $45.
Vests
Hi-Vis Vest by Blaklader: The vest features front and back mesh polyester fabric. It also has chest pockets, one with flap and one with pen pockets; front pockets with flap; inside iPad-pocket; inner pocket with velcro closure. Cost: $29.95.
ML Kishigo Ultra-Cool Mesh 3-Pocket Hi Vis Vest by Hi Vis Supply: Made of polyester with a zipper front, the vest also features an outside left chest radio pocket, an inside right chest pencil pocket and a lower inside left patch pocket. Cost: $11.97 (10 minimum order).
Pyramex CV200 Series Cooling Vest: Submerge these vest in coll water for 1 to 2 minutes for up to 8 hours of cooling, the company says. They are made of 100% polyester with quilted fill and mesh. They are adjustable. $26.08.
StaCool Vest Core Body Cooling System: The vest features micro-thin, breathable and can be worn over or under normal clothing. They are also available in safety yellow and safety orange. ThermoPaks in the front and back of the vest provide hours of cooling; a spare set of ThermoPaks are included with each StaCool Vest, the company says. From $190 and up.
Chill-Its 6685 Premium Dry Evaporative Cooling Vest by Ergodyne: The company says this vest provides dry cooling relief up to three days. It is designed with a V-neck with front zipper closure, with mesh side panels. Before wearing the vest, fill it with 13 to 20 ounces of water. Cost: $192.95.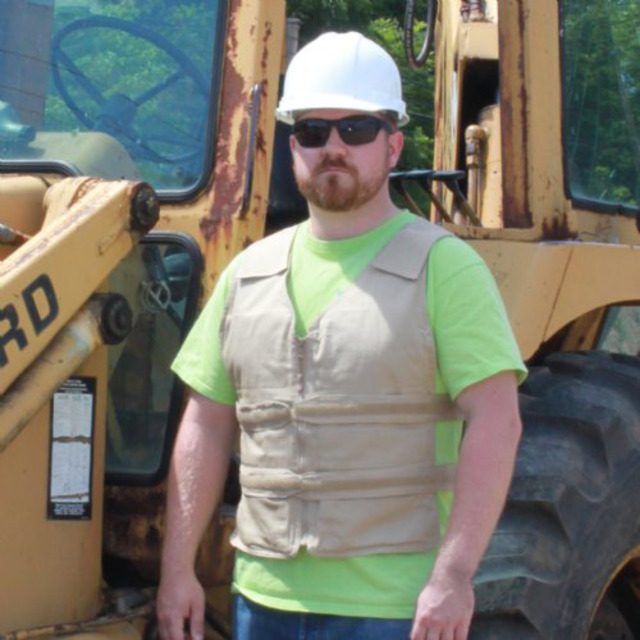 Polar Products Zipper Vest
Zipper Vest with Kool Max Strip Packs and Cool58 Packs by Polar Products: This Polar Technology Kit includes the Adjustable Zipper Vest with four large pockets with two cooling pack technologies: a set of Kool Max frozen water-based packs and a set of Cool58 58-degree Fahrenheit phase change packs. Kool Max Packs offer the highest level of cooling and are the best choice when you have access to a freezer, the company says, and the Cool58 Packs can be reactivated on-the-go in a cooler of ice water. Cost: $267.89.
Standard Cool Vest, with High Visibility by Texas Cool Vest: The company says the vest maintains a 65-degree temperature with four cool packs that charge after being soaked in ice water for 20 minutes, and the packs last about 2 1/2 hours before needing to be re-soaked. The vest has adjustable shoulders, a zipper front and six adjustable side straps. Cost: $149.95 and up.
Miscellaneous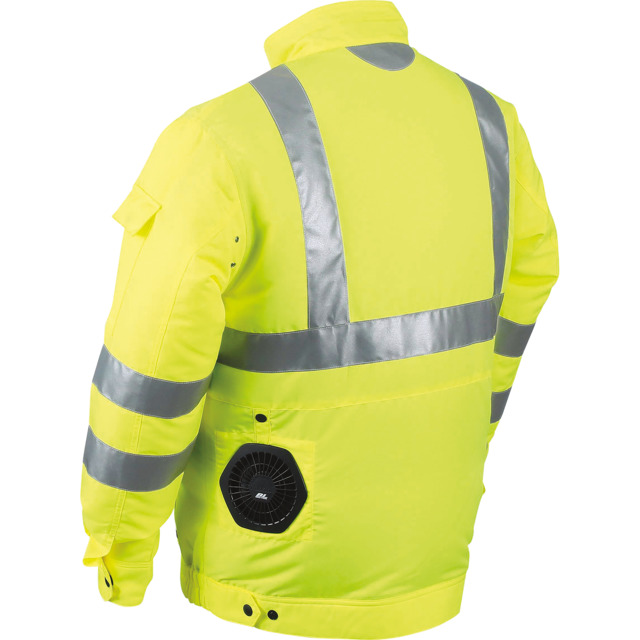 Makita fan jacket
Cordless Fan Jacket by Makita: Two fans are sewn onto the back of the jacket, on the left and right. They run up to 11 hours per charge on high setting with an 18-volt lithium-ion battery. Cost: $282.22 on Amazon; battery and charger sold separately.
Reflective Safety Harness by 360 USA: These reflective safety harnesses are designed to be cooler and more comfortable than a traditional full vest while complying with ANSI standards. They have day and night visibility, cloth backing for comfort and can be adjusted to a custom fit as they fit over your clothes. They are stain-resistant and washable. $25.
Cooling Cargo Pants by Arctic Cool: Arctic put its "HydroFreeze X Technology, a cooling management system that reduces the fabric temperature" in these cargo pants, which also feature the company's "ActiveWick" that "pulls sweat away from skin and disperses it throughout the pants keeping you dry and cool," the company says. The pants also have UPF 50+ protection. Cost: $65.
Brass Knuckle Crusher (BKDST-1020NP) safety goggles: They have specialized channels along the brow line to move water and sweat away from the eyes, while the rubber gasket seals glasses snugly against the face, the company says. The gasket does double-duty as anti-dust protection. They also feature anti-fog technology. $9.95.
What OSHA says
Train all workers. Employers should train supervisors and workers on how to control and recognize heat hazards. Workers should also know about first aid for heat illness.
Follow the 20% rule. On a worker's first day, no more than 20% of the duration of their shift should be at full intensity in the heat. The duration of time at full intensity should be increased by no more than 20% a day until workers are used to working in the heat.
Water. Rest. Shade. Workers should drink one cup of water every 20 minutes while working in the heat to stay hydrated. When the temperature is high, employers should make sure workers take frequent rest breaks in shaded, cool or air-conditioned areas.
Workers new to the job are at higher risk. Workers who are new or returning to working in warm or hot environments need more time to adapt.
Engineering controls and modified work practices can reduce the risk of heat illness. Consider reducing physical activity as much as possible by planning for the work ahead and rotating job functions among workers to help minimize exertion.