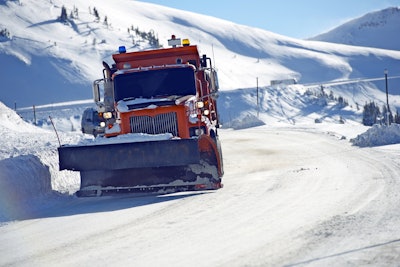 Certified Power Solutions (CPS) is launching its latest innovation in snow and ice removal operations – FleetPilot Connect – as part of NTEA Work Truck Week 2023. The new purpose-driven telematics solution leverages Internet of Things (IoT) connectivity to provide real-time and post-storm data across key areas of fleet operations. This gives fleet managers essential information to optimize route planning for drivers during snow emergencies, address winter road maintenance needs, enhance public safety, and effectively streamline operations before, during, and after snow events.
The addition of FleetPilot Connect strengthens the CPS portfolio of winter road maintenance solutions that help single truck municipalities through large fleet state-level Departments of Transportation (DOTs) preserve safe road conditions, stay ahead of increasing environmental mandates, and maintain optimal fleet performance across all seasons.
Recognizing that a "one-size-fits-all" solution is not practical, CPS and its team of expert engineers provide a consultative approach by working closely with public and private customers to develop customized solutions – complete with integrated spreader control systems – to meet the unique needs of their operations. By providing backwards compatibility to existing Certified Power and Cirus Controls technologies, equipment managers can upgrade and add new modules over time without completely replacing their current systems — providing value even with tightening budgets.
"FleetPilot Connect offers our customers the ability to collect and quickly access telemetry data across their entire fleet, enabling them to proactively address the needs for public and driver safety, cost control, and maintenance, while also adding functionality to their existing fleet," said Jeff Keating, President of CPS. "We understand that no two snow and ice removal operations are the same, so our cellular-based system works with DOTs and municipalities' existing investments to meet each customer's specific needs and ultimately help them keep roads safer in the process."
To meet the needs of an increasingly data-driven world, the new CPS telematics offering gives customers complete control over their data with the ability to integrate with state-specific software and other existing investments, giving them access to real-time vehicle data.
Steve Spoor, Maintenance Operations Manager at Idaho Transportation Department said, "Our collaboration with CPS over the years has been exceptional. CPS helped us facilitate the integration of vehicle and spreader data collection with our accounting system, allowing for new data sets that have helped us to make informed decisions regarding snow events. The CPS engineering team has been highly supportive and differentiated in their approach, and we are excited to continue advancing our operations together with the CPS team."
For more information on the FleetPilot Connect System for Snow & Ice Removal Operations, visit the CPS booth #3929 at NTEA Work Truck Week at the Indianapolis Convention Center, or visit www.certifiedpowersolutions.com.