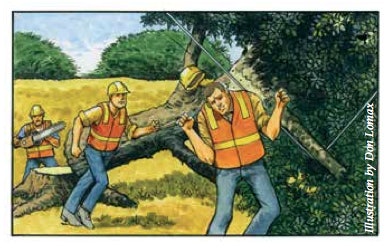 The accident: A paving company subcontracted a landscaping firm to remove 110 trees from an area being cleared to extend a parking lot.
When the landscape company owner and an experienced tree trimmer he had hired felled a 65-foot oak tree, its branches caught in a 69,000-volt power line and knocked it to the ground.
Despite being told to stay away from the area, a crew member ran toward the wire and came in contact with the electric current. Seeing his co-worker (and cousin) injured, the company owner's son ran to help and was electrocuted as well. The company owner went to the aid of his son and also made contact with the electric current. The initially injured worker suffered burns and remained in the hospital three months. The company owner underwent surgery. His son died.
What the expert says: "Everything went wrong here," explains Sam Steel, safety specialist a senior research associate at Pennsylvania State University. The landscaping company had no experience removing large trees and only removed small trees occasionally.
No one called the utility company, which could have de-energized the power lines. "They were well in over their heads," Steel says. "They didn't have the capability, training or expertise to do that work."
When landscape workers are electrocuted, overhead power lines are often involved and workers are usually performing tasks they're not trained to do, Steel says. Many times an unqualified company agrees to trim or remove trees as part of a landscaping job because the property owner wants to deal with one firm.
If you will be doing this type of work in the vicinity of overhead lines, your employer should provide safety training, rubber boots and rubber gloves. Because each jobsite has unique hazards, your employer or supervisor should develop a work plan that addresses those risks. If this doesn't happen, Steel says you should assess the site yourself and bring hazards to your crew leader's attention. Buy your own rubber boots and gloves if your employer doesn't supply them, and never work near power lines when your skin or clothing is wet.
Any time you will be digging on property with underground utility lines, those lines should be marked. Someone from your company must call utility companies 72 hours before work begins in order for them to do this. If you are operating equipment that contacts an underground line, don't get off the machine unless there is a fire. Jump off the equipment if you must leave it. When you touch the ground and the machine at the same time, your body can become a conduit for an electric current.
Local laws require a licensed electrician to be present when outdoor lighting, pond pumps and other electric devices are wired into a structure's electrical system. If you are not trained in this kind of work and are asked to perform it, tell your supervisor you're not comfortable doing so.