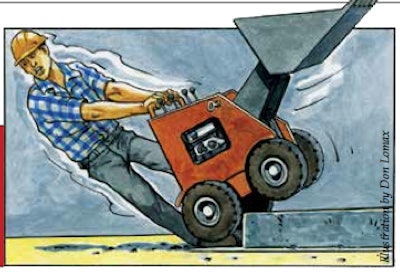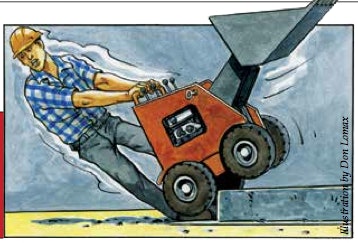 The accident: A landscape worker was using a compact utility loader to place river rock in the flower beds of a small front yard. He had emptied a load of rocks and was headed across the yard to pick up another load when he met a co-worker driving a backhoe loader toward the backyard, where excavation for a pool was underway. Because there wasn't enough room for the machines to pass each other, the compact-utility-loader operator stopped and backed toward the street, out of the larger machine's path. He was unaware of the concrete curb behind him. When the loader backed off the curb, it tipped, landing on the operator and breaking both his legs.
Prevention: If the victim had followed two basic rules of equipment operation, he could have prevented this accident. He should have walked the jobsite, noting the terrain and any obstacles such as ditches, loose soil, stumps and curbs. He also should have looked in the direction the compact utility loader was moving. When operating this type of machine, never back off a curb or step without a load or with the lift arms raised. Avoid crossing curbs, ditches and raised obstacles, if possible. If you can't avoid these situations, reduce speed and keep the load as low as you can.
Other causes of accidents involving compact utility loaders include improper travel on slopes, exceeding load weight capacity, jerking controls and using attachments as elevated work platforms.
Keeping lift arms lowered while traveling is always important, but it's critical when operating on slopes. Drive straight up and down steep slopes, never across them. Ascend and descend slopes with the heavy end of the machine on the uphill side. Without a load, the rear of the compact tool carrier is usually the heaviest; with a load, the front of the machine is typically heavier.
Knowing the rated operating capacity of the loader and knowing or being able to estimate the weight of a load is your responsibility as an operator. If you're unsure, check with your supervisor or material supplier. To prevent tip-over, make sure the load's center of gravity is in the center of the attachment and do not exceed the weight limit.
Travel slowly, especially over rough terrain, and operate controls smoothly. Use extreme care when lifting a load, keeping it level while raising the lift arms. Tilting the bucket back can cause objects in it to fall on you.
Safety Watch Information
Fatal Injuries Among Landscape Service Workers Fact Sheet and the Association of Equipment Manufacturers' compact tool carrier safety manual. You can purchase the manual at http://store.aem.org. This article and the AEM manual are meant to supplement specific information contained in the manufacturer's manual for the machine you are using.