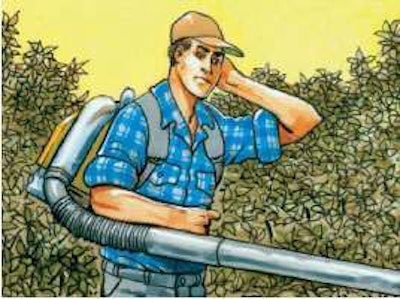 Protect yourself from noise-induced hearing loss.
The accident: A 28-year-old landscaper uses a chainsaw and leaf blower to maintain his client's residential lawn and landscape. He normally wears hearing protection but forgets his earmuffs and spends an entire day working without them. That night he senses a buzzing and roaring in his ears.
A visit to his doctor confirmed noise-induced hearing loss. The symptoms subsided during the next few days, but he experienced a permanent reduction in hearing.
The bottom line: The landscaper had routinely used proper hearing protection, but just one full day of exposure to the noise and vibration of the chainsaw and leaf blower caused hearing loss.
Such injury is preventable, and you can protect your hearing by understanding the hazards of noise and practicing good hearing health. Along with damaging your hearing, excessive noise can contribute to other health risks, including high blood pressure, trouble sleeping, headaches and emotional side effects, such as depression and anxiety.
Federal OSHA requires your employer to administer a hearing-conservation program whenever employees are exposed to noise levels at or above an eight-hour, time-weighted average of 85 decibels. Your employer also should provide hearing protection to you at no cost.
Ask your employer to have your hearing checked by an audiologist if you are regularly exposed to noise levels that require people to shout when communicating.
Tips for good hearing health:
• Keep available personal protective equipment including earplugs, earmuffs or canal caps with appropriate noise-reduction ratings for the job.
• Get an annual hearing test.
• Make sure your protective equipment fits, and maintain it properly.
• Tell your supervisor if you experience humming or buzzing in your ears.
• Don't muffle sound so much that you can't hear safety instructions.
Determining decibles
Noise detected by the human ear is measured in decibels (dBA). Earplugs (good for low-frequency noise) or earmuffs (for high frequency) can reduce sound by 15 to 30 dBA and, worn together, offer the best protection.
Long-term exposure above 90 dBA level can cause hearing loss.
85 dBA – Heavy city traffic
90 dBA – Lawn mower, tractor
105 dBA – Snow blower
110 dBA – Chainsaw, leaf blower