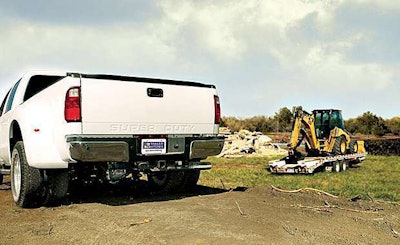 Neglecting proper trailer attachment is a common mistake with disastrous consequences.
The accident: While en route to a jobsite, a landscaping trailer detaches from the truck pulling it. The tongue of the trailer spins around and crashes through the windshield of a car in oncoming traffic, severely injuring the driver.
What the expert says: Not ensuring the trailer is properly secured to the truck hitch is one of the most common mistakes made by landscape workers, says Rich Arlington, owner of Rich Arlington & Associates, a green industry consulting firm, and member of the Professional Landcare Network's (PLANET) Safety and Risk Management Committee.
If the truck hitch ball isn't the right size for the trailer, "sometimes you can lock the pin in and everything seems fine, but then you go over railroad tracks or hit bumps, and the trailer pops off," Arlington says.
Information on correct hitch size is stamped on the trailer tongue. To make sure a trailer is secured, Arlington advises lifting the trailer tongue to see if it remains attached. If the trailer and its cargo are too heavy for this to be practical, use a tongue jack. Two safety chains should connect the trailer and tow vehicle in case the trailer tongue comes off the tow ball.
When driving, make wide right turns. "It's hardest for people to get used to an extra 20 feet of trailer back there," Arlington says. "Even if the truck made the turn OK, the trailer might not."
To further reduce accident risks:
• Check all truck and trailer lights, tires and connections before each trip.
• Don't tow a trailer with a vehicle not properly rated for the job or exceed the gross combination weight rating of a trailer.
• Properly tie down or secure equipment (see more on this in next month's Safety Watch), chemicals and materials.
• Don't exceed the speed limit.
• Maintain at least a 5-second following distance from the vehicle in front of you.
• Always use a spotter when backing a trailer.
TIP: Adjust mirrors so when the truck and trailer are in a straight line, you can see the back corner of the trailer.
By Olivia Grider