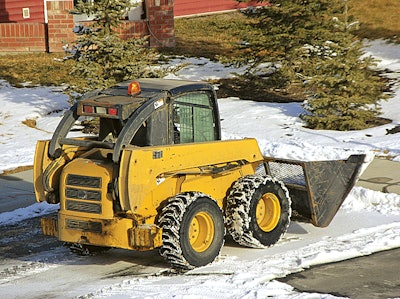 The accident: A 43-year-old equipment operator is using a skid steer to clear snow from a parking lot. There is an accumulation of packed snow and ice that completely surrounds the foot pedals, which are located on the floor near the front frame of the skid steer. The operator exits the cab with the bucket raised to clear the snow and ice from in front of and behind the foot pedals. He starts to clean the left foot pedal and presses the "toe" of the left pedal, which lowers the lift arm and bucket. He is found standing on the ground facing the loader, pinned between the hydraulic tilt cylinder and the skid steer's frame. He dies of traumatic asphyxia due to the crushing injury to the back.
The bottom line: Being pinned between the bucket/lift arms and frame of the machine accounts for about 70 percent of fatal skid steer accidents. To prevent this type of accident, follow these safety practices:
• Do not work underneath raised skid steer lift arms if an approved lift-arm support is not available.
• Never use concrete blocks as support.
• When leaving the operator's seat, lower the bucket or attachment flat to the ground, set the parking brake and turn off the engine.
• If you're unable to exit through the front of the machine, use the emergency exit through the roof or across the back.
• Do not use foot or hand controls for steps or handholds.
• Keep the foot controls free of mud, ice, snow and debris.
• Unbuckle the seatbelt and completely raise the restraint bar to activate the interlocked control system, which locks the operational controls.
• Regularly inspect and maintain interlocked controls in proper operating condition.
• Keep your arms, legs and head inside of the cab while operating the loader.
• Never modify or bypass safety devices.