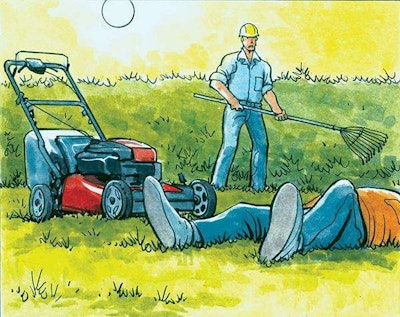 The accident: A 33-year-old landscaper is mowing grass on his second day of the job in Houston, Texas, when temperatures reach 101 degrees. While mowing, his coworkers see him collapse, and they call 911. He is rushed to the hospital where his body temperature is 108 degrees. His mother tells doctors he is healthy and has never complained about working in the heat. He shows signs of a heatstroke, and the doctors are unable to revive him.
The bottom line: Heat stroke is the most serious heat-related disorder, according to the National Institute for Occupational Safety and Health (NIOSH). It happens when the body's temperature rises quickly, the sweating mechanism fails and the body is unable to cool down.
• Wear light-colored, loose-fitting, breathable clothing such as cotton: Avoid non-breathing synthetic clothing.
• Schedule heavy work during the coolest parts of the day. UV rays are most intense 10 a.m. to 4 p.m.
• Drink 1 cup of water every 15 to 20 minutes, and never become thirsty.
• Avoid alcohol and drinks with large amounts of caffeine or sugar.
• Monitor you and your coworkers' physical condition.
• Eat smaller meals before work activity.
• Ask your doctor if your medications and heat don't mix.
• Wear a wide-brim hat – not a baseball hat.
• Take frequent, short breaks in cool shade.­