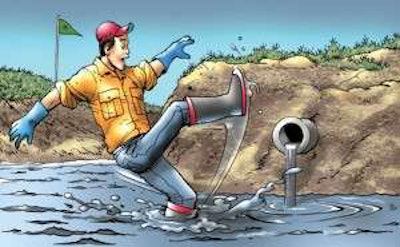 The accident
A worker is removing algae from a water feature at a golf resort. He is in ankle-deep water next to a concrete storm runoff culvert, which directs natural water runoff into the water features on the golf course. One of his crewmembers hears a splash and sees the worker go underwater. He calls the Emergency Medical Services. An hour later, they discover the worker's body at the bottom of a 15-foot depression that was created by winter storm runoff.
The bottom line
With about 10 people dying every day from unintentional drowning, it is important for crews to follow safe practices when working around water features. The worker should have been wearing a U.S. Coast Guard-approved life jacket or buoyant work vest since he was working in an area where drowning was a danger. Here are other water-safe practices:
• Before and after each use, inspect the life jacket/vest for defects that could affect strength or buoyancy.
• Have at least one crewmember who is trained in CPR, first aid and basic emergency-response skills on the jobsite.
• Encourage employees to learn how to swim. Pair poor swimmers with strong swimmers if working around water.
• Provide basic water-safety training to all employees. Local Red Cross chapters and community centers may offer these courses.
To view this article in Spanish, look at our April issue.