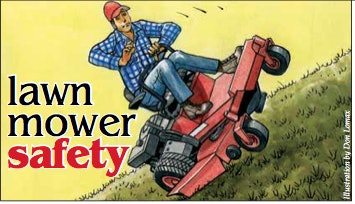 The accident: A 42-year-old worker was mowing a Florida golf course in the early morning. He was a new crew member, not experienced with riding mowers and was unfamiliar with the terrain. No rain was forecasted for the day, but the turf was damp from the early morning dew. While on a steep incline, the worker abruptly turned the mower into a position horizontal to the slope. The mower turned over, pinning him to the ground and crushing his chest, fatally wounding him.
What the expert says: Carol Kelly, product integrity specialist for The Toro Company, says the first red flag she noted in the sce- nario was the worker was inexperienced and not familiar with the terrain. An operator safety training program and better oversight by the employer might have prevented the accident, she says.
Without training, the worker had no way of knowing the equipment's capability or the proper technique for mowing on a slope. He might have been operating at an unsafe speed, and the sudden turn could have caused the machine to turn over. The employer or a supervisor also should have made sure the worker knew the terrain and marked hazards, especially areas with slopes. "We recommend the owner evaluate the slopes and choose the equipment recommended for that particular slope," Kelly says. "Most equipment manufacturers don't recommend ride-on mowers on terrain with a slope greater than 15 degrees."
Kelly says the morning dew and poorly maintained equipment might have been factors as well. Under- or over-inflated tires and wet terrain can cause a reduction in traction, which creates potential for accidents. This can be prevented, however, through good safety and maintenance programs. In addition to providing training specific to each machine an employee is asked to operate, the employer – per OSHA regulations – is required to give operators access to operating manuals for all such equipment. Many manuals are available in English and Spanish, and some manufacturers, including Toro, even offer bilingual safety videos along with their operator's manual. Pay attention as well to safety decals on mowers. These usually include slope hazard warnings and can help prevent accidents. The bottom line is no one should operate a mower or any other piece of equipment until he or she is trained, understands all safety precautions and is comfortable doing so.