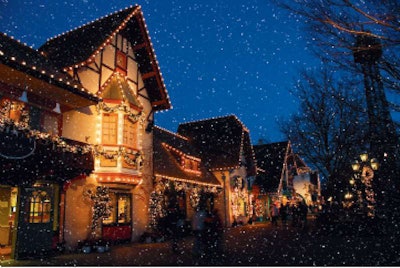 What: The market for holiday decorating is growing with residential and commercial clients.
Why: Holiday decorating can expand your business and keep your crews active during a typically slow time of year.
How: While many choose the franchise route, you can go it alone if you have the expertise.
If you haven't considered offering holiday decorating services, it's a good way to expand your business, keep workers employed during a slow time and generate positive public relations. All you need is a crew, a few good extension ladders and the know-how to capture a portion of holiday decorating budgets. Whether you buy a franchise that provides training and a discount on quality lights, or you acquire the information on your own, it's an option many find not only lucrative, but also enjoyable.
Options illuminated
In 2007, Mike Rose, vice-president of Suburban Lawn Sprinkler in Framingham, Massachusetts, wanted to expand his family-owned irrigation and lighting business by offering holiday lighting. He decided to go the franchise route offered by the Lubbock, Texas-based Christmas Décor, and launched Suburban Lawn Christmas Décor as a way to retain employees and increase profits in the off-season.
Rose begins in October, installing at 40 to 50 homes per season, and charges an average $1,500 per install. While the price might seem steep, customers are happy with the final product.
"They don't have to climb up ladders, untangle lights and try to figure out electrical issues, replace bulbs or do any of the more tedious parts of exterior decorating. They write a check and flip the switch," Rose says.
He credits the Christmas Décor franchise for his smooth entry into the business. "I seriously recommend the franchise route," he says. "There's a lot more to it than you think, and they have it all worked out. They provide high-quality LED lights, training and marketing and website support. It's a nice partnership.
"If you get into it and offer services you can't provide or inferior products that consume too much manpower to fix, you can negatively impact good customers and lose future business. Done right, your work is your calling card for not only the customer but also the whole neighborhood around him," Rose says. "The customers are happy, and my employees can keep drawing a paycheck so they are happy. All that happy is good advertising for the company."
Interim business builder
Aaron Westcott usually provides irrigation and lighting services for Bob Lenc Landscaping in Des Moines, Iowa. But also to keep his crew paid until the snow-removal season begins, he takes on a dozen holiday decorating jobs in the interim. He uses a three-man crew starting in October and works them through the holiday season. Already proficient in lighting and installation, he didn't go the franchise route. "If you have the knowledge, it's a good deal for a small business to get into. You still have to buy the product in bulk, meet with the homeowner to design the job, offer maintenance, and finally, take-down and storage," Westcott says. He agrees that it's a nice break from the regular business.
Better have a bucket
Decorating palm trees with holiday lights requires a bucket truck and a little more expertise than many landscapers have on hand. That's why Nick Schriver started his franchise operation, Decorating Elves, in 2003 in St. Petersburg and Tampa, Florida. He's seen steady growth in business, despite the economic downturn. "Much like our maintenance business, if you take care of your customers, they return," Schriver says. He guides his franchisees into starting with their residential customer base, but then moves them toward increasing their scope with commercial businesses.
"New decorating businesses may convert to new landscape business if they are satisfied with the holiday service," Schriver says.
Having your company associated with the goodwill of the holiday season has other advantages as well. "When the homeowner gathers the family around to turn on the lights for the first time, your business is the beneficiary of the 'wow' factor," Rose says. "It's a good feeling for everyone involved."
All you'll want for Christmas are some LEDs
Schriver and Brandon Stephens, marketing director for Christmas Décor, have switched from using incandescent lights to solely offering cost-efficient, environment-friendly LEDs for a greener holiday season. The products' longer lifespan, energy efficiency and durability offset the initial higher cost, they say.
• Running LED holiday lights on one 6-foot tree for 12 hours per day for 40 days can cut energy use 90 percent or more compared to traditional incandescent holiday lights.
• LED holiday lights last longer; they have an operational life span of roughly 20,000 hours, enough to last 40 holiday seasons.
• Since they are cooler than incandescent bulbs, LED holiday lights reduce the risk of fire and personal injury.
• LED holiday lights are made in the same shapes and varieties as typical incandescent holiday lights but are more durable than incandescent bulbs, with the lamp shape typically made out of a solid plastic rather than glass.
• Because they use less power, it is generally safer to connect multiple strings of LED holiday lamps end-to-end without overloading most wall sockets.
How to market your holiday decorating services
Mike Marlow, vice-president of Holiday Bright Lights in Omaha, Nebraska, says a targeted marketing strategy results in good profit margins and high customer appreciation. "It's important to fine tune your marketing efforts so you get the most bang for the buck. Your most valuable marketing resource is your current client list. Make sure they receive the first contact about your holiday lighting and decorating business," Marlow says. He shares some of his marketing strategies targeting residential business
Direct mail
Mail three separate postcards on this time schedule: Mail the first one a week before Halloween, target the second one to arrive the first part of November and send the final postcard right before Thanksgiving.
Finding clients
Target potential clients with the "rifle approach" of identifying demographics. Begin with your current client list and then target household values of 400K and up and income values of 150K and up.
Location, location, location
Place yard signs in neighborhoods that most likely hire professional decorators. Find intersections for strategic sign placement. Ask current customers to allow you to place a sign in the yard of a home you have decorated. A perfect yard sign is double-sided with a simple message. Make sure your company name, logo and phone number is visible.
Hang on
Have your crews blanket high end neighborhoods with door hangers. When your crews are working on landscaping jobs in residential neighborhoods, have them place door hangers on all the doors. Always look for neighborhoods where professional holiday decorators will be hired.
Motor message
Equip your work vehicles with graphics. This is a necessary expense in the holiday lighting business. An attractive, informative graphic is a rolling billboard for your holiday decorating service and great opportunity to brand your company.
The giving season
Many organizations conduct fundraisers during the holiday season. This is a perfect fit to showcase your holiday lighting services and capture potential business at the same time. Identify organizations that offer holiday tour of homes and volunteer your company to light and decorate the exterior. Contact the local USO or VA to decorate for families with members serving overseas or volunteer with local non-profits hosting holiday fundraisers.
Web savvy
Make sure your company is listed as a professional holiday decorator. You might even do a pay per click to help drive business to your holiday decorating website. Clients won't use the phone book anymore; they will Google for the information. Make sure you are on the website roadmap.
By Carolyn Mason