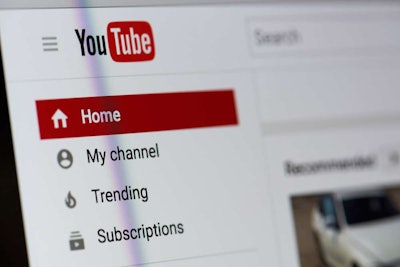 YouTube has emerged as a marketing juggernaut for many businesses, including shrewd landscapers, but the free video-sharing service has scores of other uses.
Company recruiting, client communications, product/service how-tos and dissemination of company news are all increasing in popularity on YouTube as the medium becomes a business communication tool.
"We can see by the view counters that our efforts are paying off," says Brad Rusin, marketing manager at Spring-Green Lawn Care in Chicago. "We have some YouTube videos embedded on our local franchise owners' websites, and we promote and link to them through our e-newsletter. Ultimately, if this is a channel where consumers do their research, we need to have a presence."
The video-sharing service is one of the most visited sites on the Internet and boasts more than 2 billion views daily. "YouTube is the second biggest 'search engine' out there. It's imperative to employ it as a form of Social Media," says Paul Coetzee, owner of Bernard Landscaping in New Zealand.
Virtually anyone with basic computer skills can upload a video to YouTube in a matter of minutes. And since the site's videos are generally viewed in a relatively small screen, there's no reason for you to spend big bucks for video production costs.
You can also save by shifting hosting responsibilities for videos on your company website to YouTube. Typically, you pay bandwidth transmission charges anytime a visitor views a video hosted on your home website. But when that same video is uploaded to YouTube's servers, you bear no costs, no matter how many times the video is viewed.
10 great uses for YouTube:
1. Marketing
This is the most popular business use of YouTube. Firms with shoestring promotional budgets have become stars on the service. ArborScape Tree Service serves up a good example of the kind of landscape marketing that can be created with simple production values. It pitches the company's expertise and personalizes the company: youtube.com/watch?v=wWFRCHt_MnE.
2. Recruiting
If you have a video touting your business as an inviting place to work, post it on YouTube. "Don't limit yourself to a single, long, puff video," says Michael Miller, author of YouTube for Business. "Produce separate videos for individual departments, and illustrate company values, employee benefits, facilities and the like."
3. Product/service how-tos
These videos can serve a dual purpose for your business, offering instructions for clients and serving as promotional spots. A how-to video can help place your YouTube higher in search-engine returns, since many web users type "how to" when searching for information on landscaping.
Bernard Landscaping offers how-tos (facebook.com/SpringGreen?sk=app_57675755167), as does Showplace Lawns (youtube.com/watch?v=UJebyFqxDXI) and Weedman Lawn Care (youtube.com/user/WeedManLawnCareUSA).
4. Company video frequently asked questions (FAQs)
You may already have written FAQs on your website, but you can offer a more personal touch by feature a charming customer service staff member answering frequently asked questions.
5. News video clips
The beauty of posting your company news to YouTube is your information is not sliced, diced or whittled down by others. You can post one, three-minute video, or go in-depth with a series of videos.
6. Focus groups
Many sophisticated users of YouTube employ the service as a free test lab for commercials they plan to run on TV or elsewhere on the web. Specifically, they use YouTube's free analytical tool, Insight (https://www.youtube.com/watch?v=Xo6HBKTyIzQ), to test the marketing potential of commercials. Insight's metrics include the overall popularity of your video, who's viewing it and what keywords they use to find your video.
7. Client communications
Many businesses post videos to connect with customers concerning project updates, personalized descriptions of new services and more. The medium conveys the message that the company places a special value on its client and is willing to go the extra distance to prove it. Davey Tree Expert Company, for example, offers customer service focused videos: youtube.com/DaveyTreeExpertCo.
(Custom-tailored videos for specific clients can be made private by selecting the "private" option under the "Broadcast Options" variable. This ensures only the viewers you select are able to see the video.)
8. Employee-to-employee communications
As far as Google, the parent company of YouTube, is concerned, "video-mail" is poised to become the e-mail of the next decade (http://www.youtube.com/watch?v=iWzwLGJ0BIo).
In fact, Google has added "Google Video" to its Google Apps suite for business. At the very least, video-mail is a trend worth experimenting with and monitoring, either on YouTube or via Google Apps.
9. Employee training
Any landscaping business with multiple locations can see the benefit of posting training videos on YouTube and having the appropriate employees dial in. By using YouTube's "private broadcast" option, you can ensure the training videos stay internal. "YouTube is a fast and effective way to disseminate all kinds of employee information," Miller says.
10. Savings on business travel
All of the videos sent to employees and clients may allow you to save on business travel. Granted, face-to-face interaction is irreplaceable. But in some situations, a video overture is a good compromise.
EDITOR'S NOTE: This article was written by Joe Dysart.