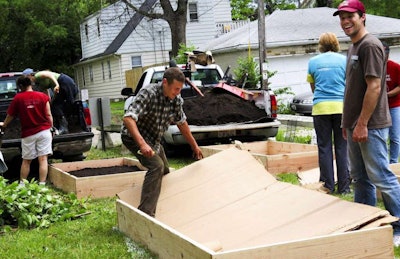 Volunteers, including Case Construction Equipment employees and family members, install raised bed gardens in a Milwaukee neighborhood during the Victory Garden Initiative's recent "Blitz" project that resulted in the installation of 278 gardens for area families.
Following its sponsorship of a week-long installation of neighborhood gardens throughout Milwaukee, Case Construction Equipment congratulated Victory Garden Initiative for the success of its "Blitz" project that resulted in the planting of a record number of new vegetable gardens in the city.
During the May 19 through 26 Victory Garden Blitz, homeowners, community groups and volunteers installed 278 gardens.
In addition to CNH's financial sponsorship of Victory Garden Initiative, Case donated the use of a skid steer loader for the Blitz. On May 26, 12 employees and family members volunteered a day of their labor to the project which included constructing and filling gardens at various sites in the Milwaukee area.
Throughout the project, raised-bed gardens were installed in yards, businesses, schools, churches, and community spaces. Materials for each garden were available for a $150 donation or sponsorship. A variety of volunteer and neighborhood groups helped build, fill and plant the gardens.