Business savvy plus passion equals early success for landscaper Wesley Graves
The only outdoor project Wesley Graves won't take on is painting a house. He sees every other job as an opportunity to expand his portfolio and client list.
His company, Graves Lawn and Landscape in Royse City, Texas, branched out when the recession hit to offer a variety of services, such as custom landscapes, irrigation, arbors, fencing, decks, outdoor living areas and even pools around the Dallas, Texas, area.
With the company slogan "More Than Expected," it's no wonder he won the 2011 Dallas Landscaper Consumers' Choice Award and is one of TLC's Landscaper of the Year finalists.
From cars to mowers
Although only 31 years old, Graves is no stranger to the business world. His parents have owned businesses, and Graves got his start by running an automotive-detailing business.
So when his brother went to Key West and left his lawn-care customers in Graves's care, "the word soon got around that I was mowing." When he realized he enjoyed landscaping more than detailing, he started talking with other landscapers for advice.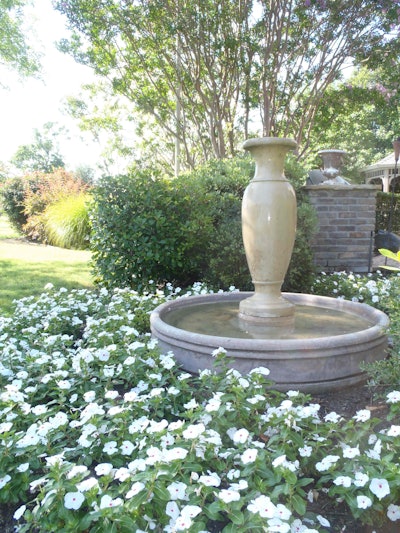 With a growing passion for the industry, he launched his full-service company, Graves Lawn and Landscape, in 2006. He started with a truck and two mowers, and he worked out of his parents' garage. His brother and friends helped him manage the mainly residential projects, and his mother answered the phone.
"If you can't mow a lawn correctly for $30, the client isn't going to give you $100,000 for another job."
For his first hardscape job, he bought a book on how to build a deck. When he won an irrigation installation bid, he earned an irrigation license. He used this eagerness to improve and his lawn maintenance service as stepping-stones to build lasting relationships with clients. "Maintenance jobs get us in the door with customers. Then we prove we can do everything else – except for painting the house," he says with a laugh.
"If you can't mow a lawn correctly for $30, the client isn't going to give you $100,000 for another job," Graves says. "You never know how far that impression will go and what projects it will lead to."
To accommodate his thriving business, he purchased land from a man he met on the job and built an office, which also served as his home for the next two years. The sky seemed the limit until the plummeting economy cast a dark cloud on his horizon.
Changing it up
"We were growing right when the recession hit," Graves says. "We had to become diverse to survive. When someone calls and asks you to build a fence, you take the job and do it."
He decided to expand his irrigation-repair and hardscape divisions and offer a 24-hour call center so clients could enjoy around-the-clock service. To bring in new business, Graves used marketing tools such as Facebook, Twitter, radio ads and his website, graveslawn.com. He also wrapped work trucks with their project photos, instead of just a logo.
"Most landscapers act like contractors," says Waylon Littlejohn, general manager and Graves's childhood friend. "We take more of a sales approach."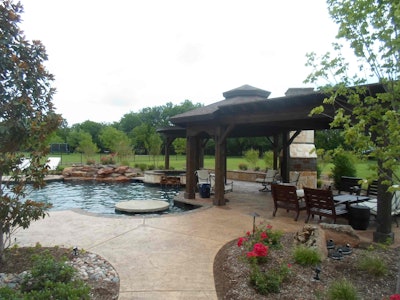 Graves not only wanted to revamp their portfolio but to also improve their work efficiency. He started by paying some employees on a task basis for their work, instead of by the hour. "Money moves people," he says. To test his plan, he began paying his sprinkler technicians a commission, and he says they've become more accountable.
He also adjusted his billing process, going from a monthly to weekly maintenance billing cycle.
Graves didn't have to wait long to see results. His annual volume reached $1 million in 2011, from $40,000 in his first year, and he's slowly moving from the high-end residential to the commercial sector – his ultimate goal.
Being in a drought-prone region, he also wants to be a leading force with irrigation systems and expand his services to reach the Fort Worth area.
"Wes is a real entrepreneur who rubs off on the rest of the company," says Tommy Redfern, lawn maintenance manager.
Peer review pays
With 18 employees, Graves knows the importance of identifying good workers – something he leaves up to his crew.
"I don't do the hiring and firing," Graves says. "I let my guys do that." He pays a prospective employee for one to two days of work and then asks fellow crew members to decide if he should hire them full time.
He also uses a hiring company to pre-screen irrigation-specialist applicants. "It might be more costly at the beginning, but it saves you in the long run," says Graves, who currently has three irrigation technicians. And it seems to be paying off: Most of his employees have been with him for several years.
That can be attributed, in part, to the close friendship he builds with each of them. "It's important for the owner to understand the employee culture." He also throws parties, brings them food and drinks on the jobsite and takes them to breakfast, on occasion. "It shows you care."
Sharing knowledge
In an industry that rewards new, creative ideas, Graves encourages his employees to share their opinions, even if they don't match his. "I surround myself with people who are smarter than me," he says.
"The customer who tells you what you're doing wrong is better than the one who tells you you're doing great."
He also wants to hear from clients, so he gives them a comment card after each service is complete. "The customer who tells you what you're doing wrong is better than the one who tells you you're doing great," he says. "Getting feedback helps you get better."
Graves then shares his knowledge and experience by leading meetings that teach employees how to handle themselves on the job. Tips include saving money during their winter off-months, where to park the work truck at a residence (not in the driveway), how to stand at the client's front door (don't cover shirt logo) and to call the client when on route to their house.
From working in his parents' garage to becoming a landscape leader in the fourth most-populated metropolitan area in the nation, Wesley Graves is proof that age really is just a number.
To learn how to become a finalist in Total Landscape Care's Landscaper of the Year program, click here.