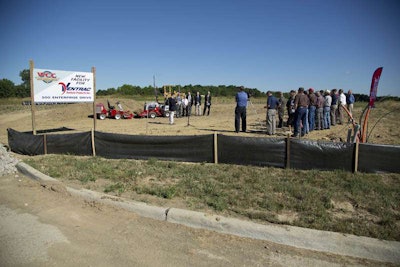 Venture Products, manufacturer of the Ventrac compact tractor, broke ground on a new manufacturing facility in Orrville, Ohio, in response to exceeding the capacities of their two current manufacturing facilities.
The new 116,400 sq-ft facility will allow Ventrac to house all operations at one location. The project will be completed in three phases, taking place during the course of three years. Phase one will house research and development, fabrication, welding, parts and warehouse departments. When completed, all operations, including corporate offices, assembly, paint, purchasing, marketing and sales, will be conducted under one roof.
The company will be adding new jobs as a result of the building expansion.
For more information, visit ventrac.com.