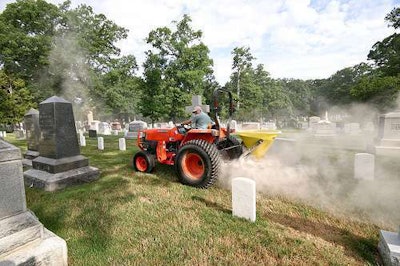 Landscapers from across the country came together to honor fallen soldiers and their families.
On July 9, the Professional Landcare Network (PLANET) held its annual Renewal & Remembrance volunteer service event at Arlington National Cemetery in conjunction with its Legislative Day on the Hill program and leadership meetings.
Renewal & Remembrance, which is in its 16th year, is the green industry's largest single volunteer service event. It included more than 400 PLANET members and their families who spent their time helping to mulch, prune, aerate, irrigate, plant, spread lime and provide cabling and lighting protection for some of Arlington's historic trees.
Each year the event features special projects for children of PLANET members, including planting native grasses, receiving education about native plants and for the second consecutive year a select few are chosen to participate in the laying of the wreath ceremony at the Tomb of the Unknown Soldier.
After Renewal & Remembrance, the focus switched to legislative issues affecting the green industry. The keynote speaker Rep. Rob Wittman (R-Va) spoke about the importance of H-2B. And the next day started with an early breakfast with Rep. Jean Schmidt (R-Ohio) who spoke to the group about the importance of talking to their legislators about issues affecting their businesses. More than 100 PLANET members and their families met with legislators or staff from their local districts to talk about some of the issues including overregulation, NPDES permits, H-2B and Lyme disease.
The Irrigation Association partnered with PLANET to host this year's Renewal & Remembrance and Legislative Day on the Hill, and New Holland Construction was the Platinum Sponsor for both events.
For more information, visit landcarenetwork.org.