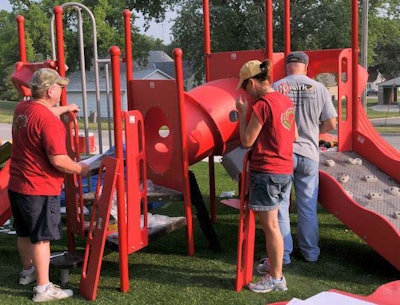 Children in Adams, Nebraska, (20 miles northeast of Beatrice) now have a new place to play, thanks to a $25,000 donation from Exmark and their employees who installed colorful playground equipment on July 3.
The new playground fills a pressing need in the rapidly growing Freeman School District. Previously, children in a preschool program from ages 2 to 5 years old had to walk about two city blocks to the elementary school playground, where the equipment was rated for 5- to 12-year-olds and was not compliant with the Americans with Disabilities Act (ADA).
"This new playground provides age-appropriate equipment for all of the community's preschoolers, without excluding anyone," said Rick Olson, vice president and general manager of Beatrice-based Exmark.
The Freeman School District purchased property closer to the preschool program, and Exmark's $25,000 donation supplied a play structure, surface, cement path and fence.
Each year, the Exmark Community Giving Committee donates money for projects in the communities where Exmark employees live and work. The committee's first donation, in 2006, created Roszell-Exmark Park, and its 2011 donation of $25,000 went to the new Beatrice Athletic Complex.
Exmark wanted donations to reach beyond Beatrice city limits, too, so they looked this year to the Freeman School District. While most Exmark employees live in Beatrice, the second highest number of employees reside in the Freeman School District.
For more information on Exmark, visit exmark.com.