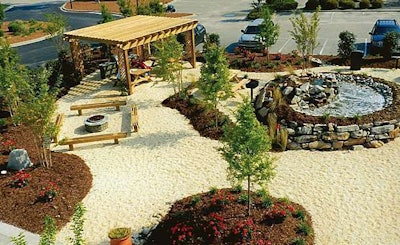 Ben Fotusky has a talent for design, construction and listening to customers.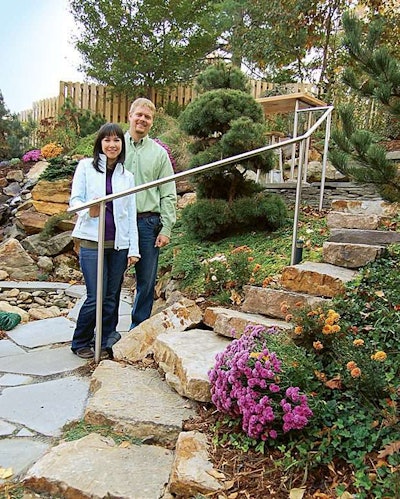 Given his size, he could have been a linebacker in high school, but back then, Ben Fotusky had more important things to do than sports. At age 14, he started working after school to get the money to buy a car, and when he got the car, he used it to get more work.
That same work ethic helped him to pay his own way in college, working in his uncle's roof truss plant near Murphy, North Carolina, while he took courses in the highly regarded two-year horticulture program at Hayward Community College.
The knowledge he acquired at Hayward, a love of design and art and a knack for figuring out any construction challenge, could only lead to one thing – a landscaping company.
Fotusky and his wife Cathy started Greater Scapes Landscape and Lawncare on the outskirts of Asheville, North Carolina, in 2004 and have since built it into an enterprise with four employees and $550,000 in annual sales.
Skills and sensibility
While he started out doing mostly maintenance work, Fotusky's construction and design abilities enabled him to expand into irrigation, waterscapes, gardens, patios, firepits, grading, stonework and lighting.
From his carpentry and woodworking skills came outbuildings, furniture, pergolas, bridges, tables, benches and gazebos. And he even tapped his brother-in-law's stainless-steel welding capabilities so he could offer this material in his outdoor creations.
The Asheville area has brought Greater Scapes a diverse mixture of high-end residential and commercial customers. But when the recession hit in 2008, it might have hobbled his business had it not be for a lesson he learned early on: Don't have debt.
"In this economy, it's hard to know what work will be like three months from now," Fotusky says. "That's why I pay for all of my material and equipment up front. I was taught it was important to run a business without debt or with very little debt. I could have taken out loans from the bank or bought equipment on terms, but if I had, the recession might have put me out of business."
The same frugal sensibility applies to the Fotusky's home. They bought an older home on a hillside where they made enough level ground for their trucks and equipment. The couple also remodeled the house and used the embankment behind it as a landscaping showpiece.
Lead by listening
But his money savvy is not the only thing that sets him apart: His artistic vision and ability to listen really impresses his clients.
"I had pictured in my mind how I wanted the yard to look, and after talking to Ben, he realized the same vision but much better," says client Stephanie Frady. "The one thing that has always stood out in our relationship with Ben is he has never pushed his ideas but has taken into consideration our needs, a limited budget and our ability to maintain the yard."
Jay Kania, another residential client of Greater Scapes, describes the scope and detail that went into building a 20- by 24-foot shop and storage facility in his backyard as part of a landscape makeover.
"He studied the backyard and the sight lines from the front yard and the neighbor's yard, gave me recommendations as to where it should be placed, how it should be oriented, what pre-existing landscaping would have to be removed, how the drainage and landscaping could be tied into the patio and every detail of the shop itself," Kania says.
"He graded the site, poured the slab and built the shop from scratch even working with the truss manufacturers to engineer the proper trusses throughout."
And for a fellow woodworker, Fotusky even cut up a few of the trees he removed for Kania to use in his woodturning hobby.
Do what you love to do
Although the business is doing well, Fotusky says his goal is not to become a big company, but just to do good work and the things he and Cathy love to do. And part of that is being good employers and citizens.
Staying out of debt helped Fotusky survive the recession.
When he hires for his crew, he looks for young men with a positive attitude and a good work ethic. Some are students working part time or in the summer.
Some go full time right out of high school. Having come up through the same ranks, he understands their ambitions and will make allowances for their school time.
Cathy has played several roles in the company, including payroll, billing and taxes, and she's pitched in plenty on annual plantings and potted arrangements. On some of their out-of-town jobs, she has gone along to cook for as many as six men each day – rather than have them subsist on fast food.
"Cathy just keeps me going," Fotusky says. "She motivates me. She has always been supportive of me and my dream for Greater Scapes. She even pushed me to enter the Landscaper of the Year contest."
This year, Greater Scapes added its first salaried employee, Stephen Bava, to take care of the books. Bava is also working on his MBA but has worked at Greater Scapes in various capacities for seven years.
The Fotuskys are deeply involved in local charitable efforts and missions, with donations to police and fire departments and support for a local family through Helps International Ministries.
When a local youth group volunteered to landscape a women's' shelter, Greater Scapes donated the materials and worked alongside them to show them how to plant and mulch. And the couple also supports church youth missions overseas.
But it's the customer who zeroes in on what Greater Scapes Landscape and Lawncare is all about.
In touring some of his projects, homeowners come out and greet him enthusiastically. Many send Christmas cards.
"If I had to have one word to describe Ben, it would be commitment," Frady says. "He delivers what he tells you. We love our yard and can't tell you how much we love Ben and the gentlemen who work for him."
5 Tips to Fotusky's Success
1. Run with little to no debt. We used our profit to buy equipment each year. While other businesses were closing or shrinking because of the economic downturn, we were able to grow.
2. Stand by your word. Be there when you say you will. Get the estimate to the client quickly. Get the job done, and get out. Be sure to follow up. That's why clients like us.
3. Expand your capabilities. Do not be afraid to learn a new skill. That way, no job will seem intimidating, and you can minimize sub contracting.
4. Know your competition. If you know the company you're bidding against and their work, you can explain to potential clients why your ideas are better for them.
5. Invest in your employees. My crew is my team, and each one is valuable to me. I try to teach them everything I know so I can feel comfortable leaving them with a task, and they can feel confident in their work.
To find out more or sign up for the 2013 Landscaper of the Year contest, click here.