Joshua Siskin's ability to cultivate bonds with clients, employees and the public allows his business to flourish.
As you walk the quiet streets of Raintree, it's easy to see why residents are drawn to the neighborhood. Lush gardens, a beautiful lake and a canopy of more than 600 trees create a serene atmosphere, making it almost impossible to believe the complex sits just yards from a busy street in a city known more for movie making than for quiet neighborhoods.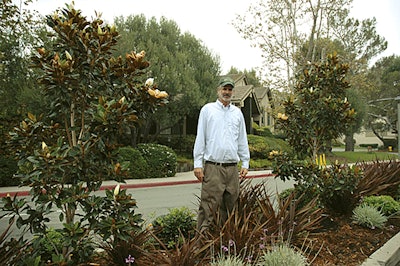 Several years ago, though, residents of Raintree were completely dissatisfied with the look and feel of their neighborhood. The condominium complex, located on a former backlot of MGM Studios in Culver City, California, had a landscape maintenance firm under contract to maintain the property. Unfortunately, that was all the firm did – maintain it.
So, the homeowners' association reached out to Joshua Siskin, the owner of Perfect Plants, hoping he'd be able to do more than just keep the grass tidy. Siskin, a former horticulture professor with a Masters in horticulture and orchard management from UC Davis, had operated a successful landscape management company since 1986. Perfect Plants took over the project and transformed the community by correcting irrigation problems, controlling erosion and installing unique pocket gardens in front of the individual residences, as well as thoughtfully maintaining their signature tree, an enormous old Moreton Bay fig.
Siskin trusts his employees implicitly, something he proved when he took a year-long sabbatical.
"He's by far the most creative landscaper we've ever had," says Raintree's Melinda Engelberg, who coordinates with Perfect Plants. "He's incredibly educated about plants, sensitive to mixing color and texture, and he's also sensitive to committees."
Relationship building
It's his aptitude for people management, as well as plant management, that has made Siskin a success, even when working with the prickliest of home owners associations (HOA). "It's as much psychology as it is horticulture," he says. "You have to establish trust. It's kind of like painting a boat; you're never really done."
Siskin says you have to not only understand the customer's problems, but also show the customer you understand. In the hard-hit California economy, Siskin does this by giving customers breaks on various products and services. For example, he allows his employees to propagate succulents for customers at no additional cost, and he often does not charge his clients for extra time spent on the job.
While the little things are appreciated and certainly do count, Siskin's visual handiwork is what his clients rave about. "It's like a symphony – the plants talk to each other," Raintree resident Marcia Antopol says of Siskin's choices, which include succulent gardens, Oak Leaf hydrangeas and Silver Lady ferns. "He saved our neighborhood."
Of course, Siskin doesn't go it alone. He has 40 employees who work together as a team, and who understand the company's vision of providing not only perfect plants, but also perfect customer service. Salvador Leon, one of Siskin's crew leaders, manages a 320-home landscape maintenance contract with a crew of six men, and has done so for years. The neighborhood also has a golf course to maintain. Siskin gives Leon a great deal of credit for keeping everyone happy. "Salvador has to work that balance between the homeowners and the HOA," he says.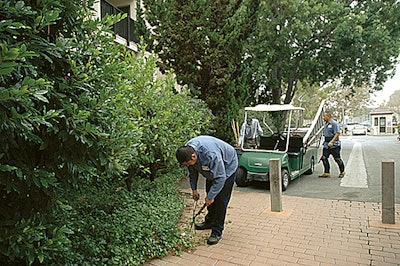 Siskin trusts his employees implicitly, something he proved without a doubt when he decided to take a personal year-long sabbatical to Israel. Siskin had lived in Israel for a 10-year period in the '70s, where he first developed an interest in horticulture, and had always wanted to visit again. He decided to return for a year of religious studies and personal growth. Siskin turned command of the ship over to an operations manager until he returned in the summer of 2011, and was confident the company would remain on an even keel. The employees say they didn't do their jobs differently during his absence. "For me, it's been the same," Leon says. "He's given me the authorization to do what I need to get the job done." Perfect Plants foremen had long had credit cards to purchase the supplies and equipment they needed, and Leon continued to conduct the weekly safety meetings. "We continued to work just as if he were here," Leon says.
Siskin is in the enviable position of being able to turn down jobs. "I've never thought I have competition," he says. "I've always felt like I could get more work right now if I wanted it." He decided to hire an account manager, determining it would allow the company to go after accounts more aggressively. While Perfect Plants handles a large number of maintenance contracts with commercial properties, homeowners' associations and property management firms, the company also has extensive experience in landscape design, drought tolerant landscaping, irrigation and tree care. Siskin feels the commitment to customers and employees, combined with constant attention to quality control and keeping up with the latest technology in irrigation and environmentally-friendly practices is the correct path to success.
"My goal now is to build a business that is extremely successful," Siskin says. "But so long as I have a dollar in the bank and I'm meeting our basic needs, that's enough. I'd rather build a business that is second-to-none than build a mediocre business that makes a lot of money."