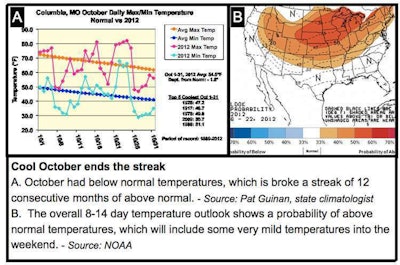 October was cooler than normal, which is the first time in a full twelve months that a month did not have above normal temperatures. In accordance with the low October temperatures, soil temperatures, are also below normal throughout the state. In addition, rainfall was at or above normal for most of the state with areas averaging 3.5 – 6.0" of the wet stuff for the month. These mild temperatures and some topsoil moisture recharge meant quite a bit of recuperation for drought ravaged lawns in Missouri, with some tall fescue lawns completely recovering. Lawn reseeding and renovation efforts should also have gone very well for most.
Forecasted temperatures for later this week and into the weekend are very mild, with highs forecasted to be nearly 10 degrees above normal. This may come crashing to a halt by the beginning of next week as a cold front is forecasted to bring potentially very heavy rains and a steep downturn in temperatures. Overall prediction for the next two weeks indicate a high probability of above normal temperatures. However, if you've got a fertilizer application still to make on cool season lawns, these next few days are probably a very good time to do so.
View the full report here.