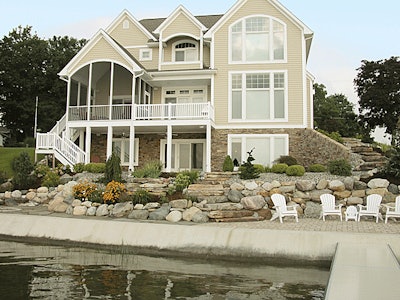 Bobby Franz keeps Franz Nursery attuned to landscaping trends and ready for the future.
One project quickly comes to mind when Bobby Franz is asked which best represents the capability of his company, Franz Nursery in Hamilton, Indiana.
"That would be Koenig on Hamilton Lake," says Franz. "Like many of the projects we do, it's a second home. It had an old retaining wall on the lake side of the property that was failing and the remaining hardscaping was dilapidated."
The property owners were at loss for what to do. And other landscaping companies called in before Franz were also stumped by the project as well because of challenges presented by limited access, steep terrain and lack of room to maneuver equipment.
"We took the job and began by tearing everything down," Franz says. "We put in a new boulder retaining wall, paver steps, patio, pergola and plantings."
The lakeside project represents the evolution of Franz Nursery, now in its third generation of family ownership spanning 45 years, and an example of how the landscaping industry has also evolved.
Playing in the Dirt
In 1965, Robert Franz, Bobby's grandfather, bought nine acres of property across the road from his home in Hamilton and started a nursery business. "He was an artist who loved plants," says Bobby, "There was no competition, and he slowly built the business and customer relationships into a viable concern."
Bobby's father, Kenneth, a teacher, worked summers at the nursery, but in 1980 took over the business. "Grandpa and dad sold trees, shrubs and plants, and occasionally would be asked by customers for help with planting," says Bobby.His own childhood memories are deeply intertwined with the business. "From the time I was born, practically, I was here digging in the dirt," he says. "As I grew older, I went from watering and caring for the nursery stock to eventually becoming a foreman. While my friends were off for spring break, I was unpacking and moving plants."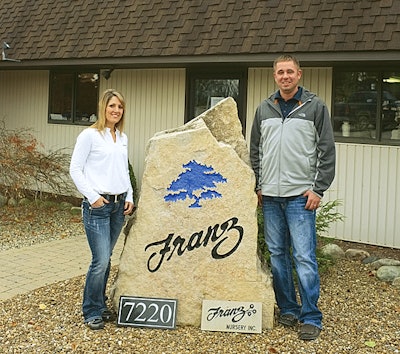 As the area became more populated, more homes were built along nearby lakes and competition increased from new big box stores, Franz's father nudged the business into design/build work.
Franz finished high school and then enrolled in college to study business administration, but was eventually drawn back to the family business where he has remained since.
While his father and mother, Arlos, who handled the administrative side of the business, directed the nursery, Franz worked his way up in the company and became general manager. He also married his longtime sweetheart, Jacee.
Assuming Control
Franz aspired to eventually take over the business, but it fell into his lap almost literally in 2005. "It was toward the end of the year," says Franz, "and I walked into my father's office to use his computer.
"He said, 'Give me an hour to clean out my office, and it's yours. I'm ready to move on.' He'd been with the business 40 years. I was blown away."
Franz's mother still handled the books, but began to tutor Jacee to take over her position. And as the young couple asserted more control, they reshaped the business into two divisions that allowed more emphasis on design/build work.
A year later, even though the couple completed the buyout just in time for the economic recession, they didn't hesitate. "Jacee and I were not concerned about the economy, we were ready to take ownership, and go to work," Franz says.
He had become an astute trend watcher, and as demand grew for hardscaping in his market area, he further refined the design/build side of the business to focus on the opportunity.
"While we can pretty much do it all, from plants to installations to irrigation, we've become known for stone and bricks," Franz says.
Franz has 24 employees, including sales and nursery staff, as well as three crews that handle installations. "The majority of our work is high-end residential," Franz says. " We serve northeast Indiana, which is mostly lake country with a lot of second and vacation homes." Key to his success, as it is with most landscaping professionals, is word of mouth referrals.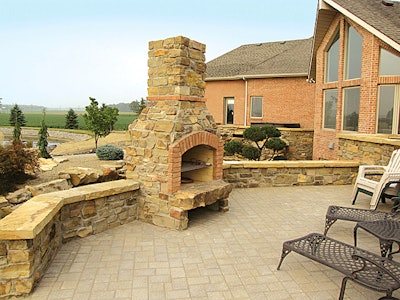 "I love building a project, seeing it through every step, then handing it over to the client, and saying, 'Here ya go,'" he says. "Totally exceeding the client's expectations is the payback to me."
Franz Nursery has also garnered its share of awards, including three awards of excellence for best residential hardscape in state from the Indiana Concrete and Masonry Association.
Franz gives credit to his employees for these accomplishments and says "without good people in key positions, there would be no way to continue to leverage our success," represented in 2012 by the company's $1.5 million revenue.
Planning Ahead, Looking Back
Starting in January each year, Franz and his team develop a business plan for the months ahead. "We rebuild our business plan every year," he says. "We take all of the data, which lend reality to any plan, and determine what has worked and what hasn't.
"Frankly, it gives me a sense of comfort. We stick to the plan and don't deviate from it. Even in a year like we're having with the economy still weak and record drought, we've had a good year."
Franz, 36, looks forward to continuing to build innovative landscape projects with the team that surrounds him.
"My dad still stops in all the time," he says. "After doing this for most of his life, we still impress him with the projects we design and install. That is part of what drives me."