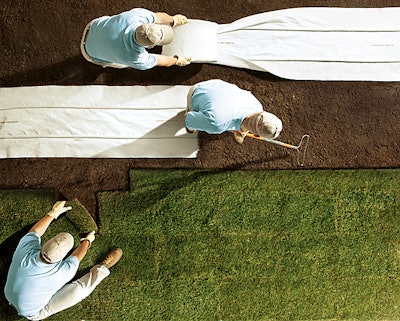 Make irrigation add-on services into a rainmaker for your landscape company.
Adding irrigation installation and maintenance services to your business can boost your bottom line, increase your client base, and provide ongoing income from repairs and maintenance. Whether you're tired of subbing out irrigation jobs (and profits) to other contractors or want to offer one-stop shopping so your clients need not call anyone else, irrigation is a viable option. With proper training and some basic equipment, this sector can be a profitable add-on for your existing landscape business.
Why add irrigation?
Customer demand is a common reason for adding irrigation services. "Clients were asking us for it," says Josh Metsker, co-owner of Nixa Lawn Service in Springfield, Missouri. "Most customers assume you can do it all anyhow, and they don't want to write one more check to another contractor." After referring out irrigation jobs for several years, Metsker decided it didn't make sense to keep sending business away to other companies, who weren't sending back referrals in return.
Adding irrigation services becomes a necessity for some companies. "We were installing landscapes but finding it difficult to warranty plants because irrigation systems weren't working properly or efficiently. We were replacing a lot of plants," says Maria Bargellini, president of Dallas Curb Appeal in Dallas, Texas. "We quickly figured out that if we were already on site, we could make money again by doing repairs on systems."
In addition, irrigation can provide a steady stream of built-in residual fees. "For every installation, we include an annual maintenance contract that requires spring startup and winterization blow outs to keep the warranty valid," says Jim Lewis, president of Lewis Landscape Services in Portland, Oregon. "With spring startups, we look for potential issues, such as a shrub grown over a head, which feeds our repair business."
Getting started
Like most work requiring technical expertise, training is key. "Make a real investment in educating yourself," says John Eggleston, general manager of Service First Irrigation in Lansing, Michigan and chair of the irrigation and water management specialty group at NALP. "Don't underestimate the complexity of irrigation. There's more to it than installing a few lines. You're dealing with a lot of variables from plant water needs to slope and site planning."
Educational opportunities include online classes, trade show seminars, and distributor workshops. Most major players in the irrigation product industry, such as Rain Bird and Ewing, regularly offer classes in various locations across the country. Universities with turf grass management programs and some junior colleges also may have basic irrigation classes.
Another resource is the Irrigation Association (IA), a trade industry organization that offers national certification in categories such as design, contracting, and water management.
Licensing is another issue. "It's all over the place," says Brent Mecham, industry development director for the Irrigation Association. "But we're seeing many new green codes being adopted that are raising the bar to prove contractor competency and responsible use of water resources." Some states, such as Texas, have specific irrigation licensing, while others, such as California, require a general contractor's license. Laws also vary by city and county. Check with your water purveyor or contractor's board for specifics in your area.
Avoiding pitfalls
Typically, irrigation installation and irrigation maintenance and repair are considered two separate business divisions. Most companies formerly did both installation and service, and some companies still do. But many are specializing in maintenance.
Knowing yourself and company culture is vital to deciding on your focus. "Don't try to be something you're not. If you're already running a lawn and landscape maintenance company, doing maintenance may make the most sense because you know the property, you know the plants," says Eggleston. "But if all you do is design/build jobs, maintenance may not be something you want to tackle. It's a 24-hour service."
In many parts of the country, irrigation competition is fierce and low bidding wars are commonplace. But successful companies have a different approach. "We're never the low bidder," says Lewis. "We're probably 30 to 50 percent higher than competitors, but we give customers reliability, efficiency, and a long warranty. We focus on being the Cadillac of the industry. People still want quality."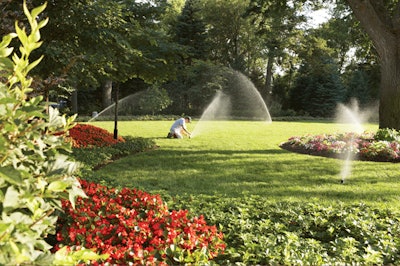 Finding a specialized corner of the market is a good way to differentiate your company in a crowded field. "My landscape customers were asking about irrigation maintenance contractors, but most companies aren't going to come out to fix two sprinkler heads," says Dave Schultz, of Dave the Garden Guy in Tampa, Florida. "I saw a niche to fill. I'm a one-man operation and knew I could handle these small jobs."
Most contractors agree it's a good idea to take on jobs slowly. Start out with a few repair jobs, or install several systems per season until you learn the ropes.
How do you make money?
Typically, profit margins on installations run from 15 to 20 percent, while maintenance profit margins are usually 30 to 40 percent. Parts can also be marked up about 20 percent over retail. In addition, once you've earned their trust, customers often ask for other services, such as hardscape or lighting installation.
Pricing is always challenging, and there's a huge range of variability depending on region. "Your clients are your best source of information for competitor surveillance," says Bargellini. "Ask what other estimates include, then explain why your products are better."
Taking time to explain to clients what makes your services unique is important. "I explain I'm using more durable heads that can take being run over near the driveway, or I'm installing a drip line so the window frames are not going to rot as the water hits the house over time," says Bargellini. "Then customers understand I'm actually not more expensive in the longrun."
WHERE TO LEARN MORE
Ewing Education Services
Rain Bird Academy
Classes at various locations or customized on-site training at your location
Irrigation Association
Classes, books, self-study resources and national irrigation certification
National Association of Landscape Professionals (NALP)
Hunter Industries