One landscaper's passion & perseverance helped him turn disappointment into success.
Jason Core's landscaping career might have started out like most others – but his journey from being a child with a make-shift mower to running a successful, $1.8 million business was anything but average.
Going full circle
When Core was 9 years old, he spotted a mower in his neighbor's yard and decided to crank it up and mow the lawn. Impressed, the neighbor started paying him $1 a trim.
Core and his "riding" lawn mower – a 10-speed bicycle with a mower hooked to the back – soon caught the eyes of his other Kingwood, Texas, neighbors, and after a few years, he built his business up to about 30 customers. He decided to take his growing company to the commercial market and bid on a large shopping center. However, the owner thought he was too young and inexperienced and did not award him the job.
Core's pride took a hard hit, so he decided to head a new direction and join the United States Marine Corps. Even in this new environment, though, his focus stayed the same, and within a week, he found himself in charge of the equipment-maintenance operations. "I'm never afraid to take over a situation," he says.
"If it's outdoors, and we can make money doing it, we'll either do it or subcontract it."
After serving his time in the Marine Corps, he moved to Louisiana with his wife and children to take over a family farm, but he eventually concluded this type of life wasn't for him: "I was scared to work this hard and lose everything because of one bad season," he says. "I was exhausted, didn't see my family and wanted to do more for my kids."
So he decided to focus on his real passion, landscaping, and packed up his family and moved to Texas where he worked as a general manager for a landscaping company.
When that business went under, Core worked for another landscaping company as a laborer for $8 an hour. "I was on the opposite end of the spectrum," he says after losing the higher-management job. "There were days I just wanted to call in sick because I felt beat up and tired."
It was when he felt the worst that a friend encouraged him not to give up. And Core's perseverance paid off: He was promoted to foreman and soon gained the respect of many clients. "Former customers started calling me to come after work to do jobs for them," he says. After receiving this response, he decided to start his own business, Scapes Environmental Design, in 2001.
He worked out of his house at first, and after a year of expanding, he moved into a warehouse. He eventually settled Scapes into a house in Porter, Texas, with a large backyard for equipment storage. "Our current location is off the beaten path, which is good for security," he says. They built a warehouse for dry storage and room for the mechanic to service all of the equipment.
Beyond Porter
Scapes started out by offering maintenance services in a project radius of about 10 miles from the office. But after Core drove 90 miles for a job at Texas A&M, he realized there were more opportunities further afield for Scapes and expanded his coverage area. "I reached out to customers and asked if they had businesses that needed landscaping," he says. "Our willingness to go wherever we were needed helped make us profitable."
"Everyone likes a pat on the back, but when it shows up on a paycheck, that means a lot."
They also added to their list of services to include design/build, irrigation, rainwater harvesting, water features and hardscaping projects. "Now, we create landscapes that are works of art," he says. "If it's outdoors, we'll either do it or subcontract it."
And it's paid handsomely; Scapes enjoyed a 36-percent growth in 2011. "We took our company into a down economy and had our biggest growth ever," he says. "We signed contracts while others closed their doors.
"Our growth comes from great sales and follow-through, which makes our clients and word-of-mouth great advertisers for our company," he says. "We want to separate our company as the leaders, not just a landscape company."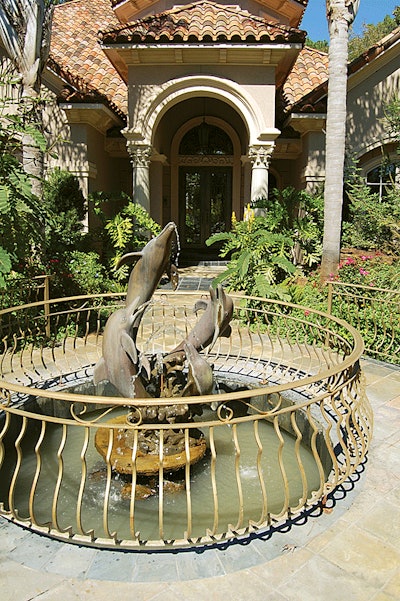 One example of how Scapes does this is their "How to Mow and Not Cut Off Your Toe" campaign and website, click2mow.com. It encourages residents to seek professional help for mowing their lawns and offers questions to ask lawn contractors before hiring them: do they have insurance; do they have a business location; and do their employees look professional and credible.
If spending his or her Saturdays on the mower is a homeowner's favorite hobby, this guide also educates the consumer on how to safely mow. The mowing checklist includes appropriate attire, how to clear the area and maintenance tips. Visitors can also view blogs, videos and project photos on the website.
Helping at home, abroad
Core not only shares tips and advice on Scapes' website, he also gives back in other ways to the community. When he isn't in the office or on a jobsite, he's instructing spin classes at Lifetime Fitness – one of Scapes' commercial clients. He also teaches Bible studies, preaches at a local church and travels to El Salvador each year to drill water wells.
This giving spirit extends to his business, as well. He rewards his 20 employees by paying more than minimum wage and offering bonuses. For example, if a customer compliments a crewmember, that could equal $50 extra for him that week. "Everyone likes a pat on the back," Core says, "but when it shows up on a paycheck, that means a lot."
He also names an "Employee of the Month" and awards incentives such as gift cards and sporting-event tickets. For team members who need help learning English, he pays for language classes.
"We're like a big family," says LaKeisha Rollings, administrative assistant, who started working for Core in March 2011. "I take this job to heart – it's like our second home."
Once a month, everyone meets outside of the home office to go over topics like uniforms and dos and don'ts of the jobsite. Core instills safety and appearance tips with the crews, requiring them to wear uniforms, steel-toed boots, earplugs, safety glasses, long-sleeved shirts and pants. "Take ownership in how you look, and be efficient and professional," he says.
This care and encouragment for employees results in a low turnover rate – which he says is an important part of their success. "It's hard to find key personnel.We have a select style and way we do things. To find someone who does it the way I want is hard to do."
Core's business success hasn't come without experiencing a few rough currents. "We have our struggles,' he says, "but we've overcome them with great planning, innovation and faith."
To learn how to become a finalist in Total Landscape Care's Landscaper of the Year program, click here.