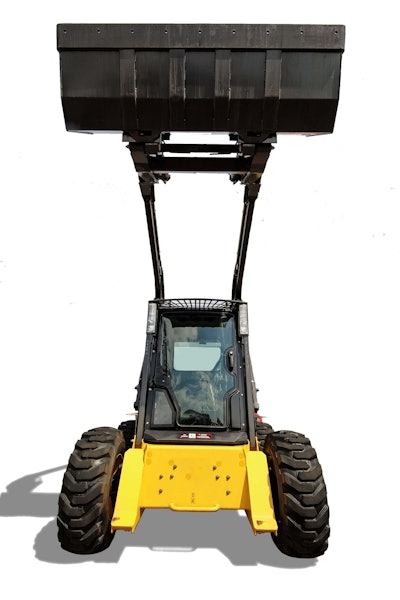 Before recommending skid-steer loaders to your customers, it's useful to have a firm understanding of how loader boom arm geometry affects machine performance.
Two basic boom geometries exist – radial lift and vertical lift. The key differences in the loader arm lift path are due to the design of the loader linkage. A radial machine typically features a single pivot for the loader arms while the vertical lift model uses a more complex linkage which provides the vertical lift motion.
Differences in the machines are rather subtle. Performance is virtually identical when the loader arms are not raised and either machine is capable of accomplishing the assigned task.
Two primary advantages of a vertical lift machine are that it keeps the load closer to the machine through much of the lift cycle and it offers a greater overall lift height. There are many different vertical lift designs, so consult the lift patch chart for the particular make or model you are considering for specifics.
Vertical lift does not mean the load travels straight up. "Vertical lift is a bit of a misnomer because everybody is moving around a couple of different linkages," says Tony Sims, segment development manager, Volvo Construction Equipment. "It usually follows some sort of S curve. But that curve is overall much closer to the center of gravity of the machine. All of the lift paths are just slightly different between different manufacturers."
Read the full article here.
– By Curt Bennink
To find out more information about skid steer lift options, click here.