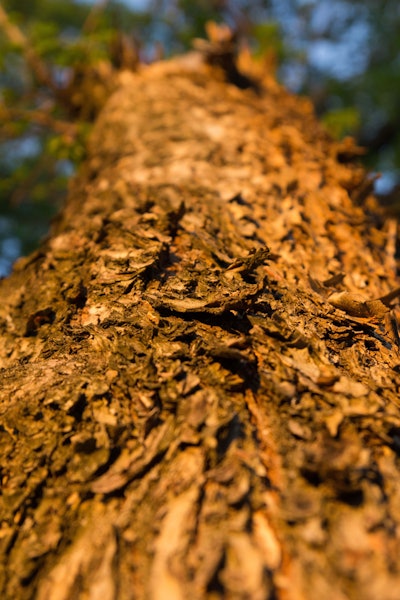 Everyone knows that flowers provide color in the garden, particularly through spring and summer. As blooms become less abundant in autumn, fall color of deciduous plants and trees becomes more prominent. After most plants are finished blooming, and most of the fall color is gone, the garden may seem relatively bleak for winter. Only evergreen foliage remains. This is when plants that exhibit colorful bark or bare twigs really get noticed.
Various types of birch trees exhibit striking white bark all year. While the trees are bare in winter, the bark becomes even more prominent, particularly against a backdrop of evergreen trees. English walnut trees are not as striking but are more sculptural.
Fruiting types of fig trees are more gray than white, so they are more reliant on a backdrop of rich evergreen foliage or a darkly painted wall for contrast, but they grow fast enough to become interesting sculptural specimens within a few years.
Bright white or light-gray bark is certainly no substitute for the colors of flowers or foliage, but it is striking nonetheless. The bark exploits the starkness of winter, and the sculptural nature of bare trunks and limbs.
Even without the sculptural structure of birch, walnut or fig trees, the more colorful twiggy growth of coral bark Japanese maple and osier dogwood trees can be quite an advantage in a stark winter landscape. As the name implies, coral bark Japanese maple has pinkish orange twigs. Osier dogwood can be ruddy brown, brownish orange or pale yellow. Frost improves color.
Read the full article here.
– By Tony Tomeo