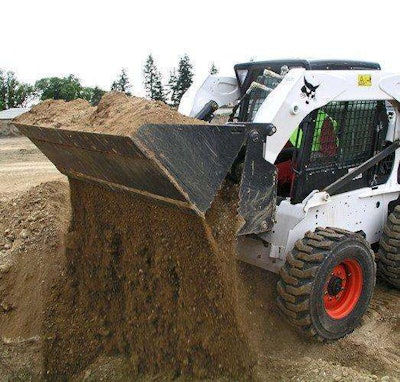 Until just recently, the Great Recession put a good many landscapers across the country in survival mode. A dearth of new-home construction along with a tsunami of foreclosures and high unemployment resulted in the loss of many longtime landscape maintenance customers, as well as the availability of new landscaping projects.
As a result, many landscapers have been forced to reconsider the equipment they need to remain productive and profitable.
Renovation or replacement of existing landscaping is one area that many landscapers are targeting. Often, the original landscape was installed by the builder of the home or property and lacks elements that the owners now wish to incorporate. In other cases, landscaping has become overgrown and difficult to maintain. In either case, the owners may desire to replace the existing landscape or make major renovations of both plantings and hardscape elements.
A skid-steer or compact track loader with a standard bucket is the landscape contractor's basic tool for this type of work. But a standard bucket has its limitations, especially when working with awkward objects like trees and odd-shaped items like boulders. And then there's the variety of materials that come on pallets. Of course, any number of attachments are available to help the contractor with these projects. Many of these time- and labor-saving attachments are available at light equipment dealerships or rental stores. However, a few should be considered for purchase for everyday use.
In no particular order, here are top 10 landscaping attachments, chosen on the basis of their versatility and potential return on investment:
1. Combination bucket – This multi-function attachment will not only help build your business in tough times but will also save you time and effort on almost every project. It can be used as a bucket for loading, carrying and dumping; as a grapple to handle odd-shaped objects like logs and stumps; or you can open the clamshell for dozing, leveling and spreading material.
Combination buckets are available in a variety of sizes to fit almost any skid-steer or compact track loader and can be purchased with or without teeth. Some models feature replaceable cutting edges on the rear of the clamshell and dozer blade.
2. Tree fork – Attached to a small loader (skid-steer, compact track or mini track), the tree fork effortlessly handles ball-and-burlap trees, large potted plants, decorative rocks, boulders and other odd-shaped objects. A tree fork has a hydraulic arm that opens and closes to grasp and hold objects close to a rigid second arm. It's ideal for lifting, lowering and transporting materials on landscaping jobsites or at a nursery and will pay for itself in savings on painkillers and chiropractor bills.
3. Root grapple – The root grapple simplifies renovation and replacement projects. Use it to separate roots, brush, rocks and other debris from sand, soil or gravel. The attachment's skeletal design allows finer material to fall between the teeth, resulting in fewer and lighter loads and leaving valuable topsoil behind.
4. Box blade – The basic box blade is designed for rough grading in landscape applications. Mounted on a loader, it can be easily and conveniently raised and lowered right from the cab. New models are now available with laser control systems for superior grading results. Laser-guided versions can grade to an accuracy of ± 0.25 inches.
5. Pallet fork – The pallet fork may well be the most versatile attachment in your arsenal other than a combination bucket. Use it to lift, carry and place pallets of sod, bagged fertilizer, brick and block and even plants and shrubs.
6. Landscape rake – A landscape rake allows you to finish a project in just one pass. It smoothes, levels and rakes while collecting surface debris such as small rocks and the type of trash that accumulates around new construction. Most models have a top cover that opens to allow easier dumping.
7. Spreader – Once you've created the perfect seed bed, you're ready to distribute dry, free-flowing material like seed and fertilizer with a loader-mounted spreader. Spreaders of this type allow you to throw material up to 20 feet on either side, making quick work of large areas. A high-capacity hopper improves productivity due to fewer stops for refilling.
8. Dumping hopper – With a dumping hopper, you can easily move large quantities of materials like sand and gravel to areas that might be inaccessible by other means. The dumping hopper also saves time and labor and eliminates the need for wheelbarrows and shovels. The hopper can be parked, filled, then reattached to the loader and moved to the dumpsite.
9. Soil conditioner – When it comes to lawn renovation, the soil conditioner is the perfect tool. Use it to tear out old sod, pulverize clumps of dirt and grade, level and fill ruts and holes. Most units operate in both forward and reverse directions and can be angled up to 25 degrees. While it's loosening and smoothing out the soil, a soil conditioner will also separate rocks and debris. Some models offer the convenience of hydraulic depth and angle control.
10. Auger – If you're digging a large number of holes, such as for a fence line, you might consider an auger attachment to speed up the process. An auger saves time when planting trees or putting in a deck. Bit and teeth designs are available for a wide range of ground conditions. Many models feature a knuckle joint that allows the auger to hang plumb even when the tool carrier is sitting on uneven terrain.
While attachments make compact loaders into versatile machines, landscapers need to consider what type of loader is best suited to the job.
Landscape contractors who perform most of their work on established properties may want to use a mini track loader. The small size of this loader allows landscapers to navigate narrow passages between houses or go through gates and mechanize tasks that would otherwise have to be performed by hand. Since the loader has tracks, it can work with minimal damage to the turf, which is the biggest complaint landscapers have about using equipment. When turf is disturbed, more time is spent on the job and it is less profitable.
If access isn't an issue, the landscaper may prefer a compact track loader because it has a higher-rated operating capacity and is more powerful than a mini track loader. The rubber tracks will minimize turf damage. Compact track loaders also allow you to continue to work even if it's raining or muddy.
However, the best option for landscapers may be an all-wheel steer loader. This loader can be used two ways — as a skid-steer loader with wheels locked in place or with four steerable axles. When used in skid-steer mode, the loader can turn within its own length, easily maneuvering in tight areas. In the all-wheel steer mode, the wheels turn like a wheel loader and do not damage the turf and do not mark up concrete or asphalt on the street.
– Information provided by The Bobcat Company