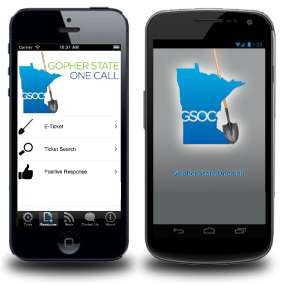 A new smartphone app has been developed by KorTerra to provide safe digging and important call before you dig information.
KorTerra's new damage prevention app is currently being used by Minnesota's call before you dig center, Gopher State One Call. The app is available for download in the Apple App Store and Google Play for Apple or Android smartphone or tablet devices.
This avenue of communication to one call centers, such as Gopher State One Call, allows anyone who is planning to dig a quick and easy way to provide information about a dig project directly from their smartphone. With the app, users can also receive further information about their dig project, such as when the dig site has been marked with paint or flags, and what the colors of the paint and flags mean.
The app gives anyone who is planning to dig an easy way to follow state laws by providing safe digging information, as well as links to submit their dig information online, from their smartphone.
Features of the damage prevention app used by Gopher State One Call include:
E-Ticket: Submit your dig information and draw a map of the dig site directly from your smartphone.
Positive Response: Utility companies can submit positive response information.
Ticket Search: Search for the dig information or ticket you submitted.
Utility Color Codes: Learn what the colored flags or paint means in your yard.