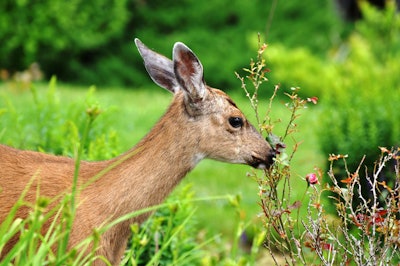 Like a lot of other gardeners, Sally Pickard is looking forward to the day when deer will stop eating her tulip buds.
She's tried products using animal urine or putrid eggs to keep them away.
These products work for a while.
Then it rains, and Pickard has to use more repellents.
And, oh yes, they stink.
Pickard is going to give Scotts Miracle-Gro's latest product a try: animal repellents made with cinnamon, mint, rosemary and cloves.
Scotts, based in Marysville, is getting back into the animal-repellent business this year after a several-year absence, with products based on essential oils — they smell good to most people and ward off animals by confusing but not harming them.
The products are now on store shelves bearing the Ortho brand, with names such as Deer-B-Gon and Animal-B-Gon. They're safe for children, pets and the environment. They tend to last longer than other products because their oils are not as easily washed away by rain or snow.
Read the full article here.
By Mary Vanac