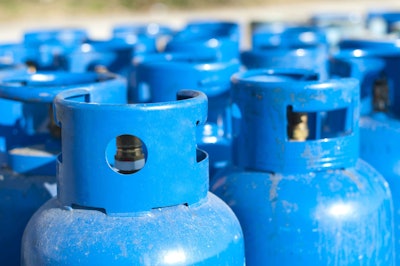 The Ozark Empire Fairgrounds E-Plex was filled Saturday with vendors putting greenery at the forefront at the annual Lawn and Garden Show.
Lush plants, inviting outdoor living displays and areas filled with all manner of lawn equipment competed for attention with others selling landscape services and decorative garden items.
But another variety of green was in evidence at the Metro Lawn Propane Conversions booth. Metro Lawn — a sister company of AmeriGas and Titan propane companies — was displaying its propane conversion kits.
The kits, which allow any gasoline-burning mower to be converted to use cleaner-burning propane, are increasingly appealing to commercial lawn-care companies, said Jill Buchheit, account manager at AmeriGas.
"A lot of the big lawn mowing companies are going over to propane because of the greenhouse effect," Buchheit said.
According to the Propane Education and Research Council (PERC), propane is one of the cleanest burning fossil fuels. Propane-powered equipment produces 30 to 90 percent less carbon monoxide than those that run on gas and produces about 50 percent fewer toxins.
Read the full article here.
By Jan Peterson