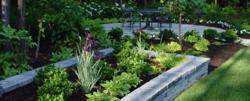 Green Side Up Landscaping was awarded the "Best of the Best" designation for excellence by Follow Media Consulting in the category of Richmond Landscape and Richmond Landscaping. This award signifies the continued commitment and dedication of the areas best in lawn maintenance and landscaping services.
Green Side Up Landscaping is a full service landscaping company serving Richmond and Williamsburg, Virginia. Their company is currently owned by three people but with only one vision: to create enduring outdoor living spaces in balance with nature that surround the senses with seasons of colorful low-maintenance beauty.
As an ICPI-Certified contractor, they guarantee their paver hardscapes for their craftsmanship — for as long as clients live at their home. Their residential and commercial renovations are in demand because they're built to last by degreed professionals with higher standards.