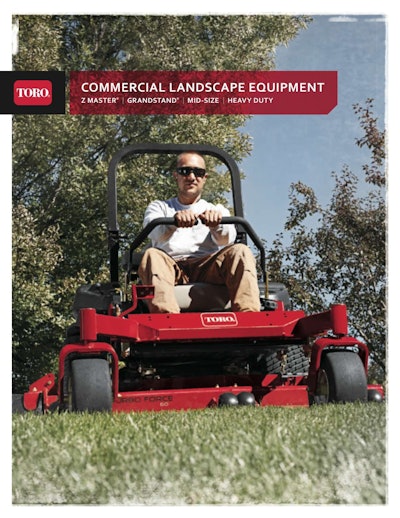 Toro has introduced its 2013 commercial landscape product lineup, highlighted in the new Toro Commercial Landscape Equipment catalog.
This year's line includes the new Toro TurfMaster 30-inch commercial walk-behind mower along with Toro's durable, performance-engineered range of Z Master, GrandStand, wide-area walk-behind, and 21-inch heavy-duty walk-behind mowers.
The new Toro TurfMaster 30-inch commercial mower covers more ground in less time than smaller models, yet it is easy to handle. Featuring a heavy-duty steel bullnose front bumper, skid plates and a strong one-piece handle, every component has been designed for the demands of commercial mowing applications.
And the TurfMaster's two-point Height of Cut (HOC) system, combined with its conventional walk-behind design, makes it easier to use and control. From top to bottom, the TurfMaster is built for heavy use in rough conditions, from curbs to trailers to multiple operators.
The 2013 Toro Commercial Landscape Equipment catalog showcases the durability of the Toro Turbo Force cutting deck, which is standard on select models. The Turbo Force deck features a fully welded, fabricated 7-gauge, high-strength steel shell that is 33 percent thicker and has 32 percent higher yield strength than standard 10-gauge steel.