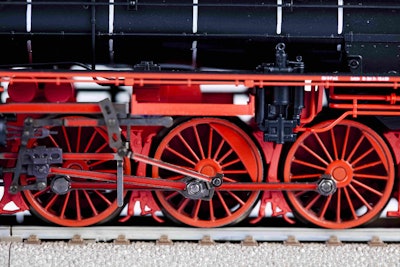 Sometimes a model railroad meant to run outdoors can take over a yard. Track, trestles, tunnels, town buildings and other features become the overwhelming focus.
Glenn and Janet Mitchell's G-gauge (for "garden") setup demonstrates a balance between landscape and layout.
Theirs is one of 10 stops in the annual Rails in the Garden self-guided tour that the Tucson Garden Railway Society is hosting next weekend.
The couple landscaped their backyard from scratch when they moved into the west-side home 20 years ago. They took out a putting green and built raised beds and planters smartly finished with pavers, bricks and landscape rock. They topped the soil with decomposed granite to control erosion.
Glenn, an electrical engineer by training and career, drew up plans that included 650 feet of track, bridges, tunnels, underground wiring and automatic irrigation.
There's plenty of room for buildings along the track, but also for vegetation.
"We knew we wanted a few plants," Glenn says. But they did need to spend time figuring out what works best. "We do the trial-and-error method," he says.
Read the full article here.
By Elena Acoba