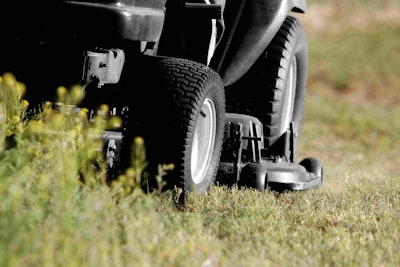 We all await spring for the start of another season.
This is a good time to service your equipment before putting it to work. The first thing is to give each unit a good once-over to ensure all hardware is secure, no oil or fuel leaks, and the tension of belts is properly set and their condition is in good working order.
Once that is done its time to bring the unit to life for the first time since last season. If the unit was stored with no fuel, add fresh fuel, check the oil, then start it up.
This is a good time to change the oil, so after it has ran for 10 minutes or so, shut it off and drain the oil. Once drained, re-install the plug, and refill with manufacturer's recommended type of oil.
It is also a good idea to use an enzyme treatment in the fuel to help protect the fuel system from the affects of the ethanol in the fuel. These treatments are available at most lawn and garden centers and will help keep your engine up and running smoothly.
Also check the air filter and spark plug and clean or replace them if necessary. Once the engine is serviced, lubricate the chains (if equipped) and adjust if needed. Sprocket alignment should also be checked to prevent premature wear of drive components.
Also lubricate idlers and any oher pivot points for smooth operation. Inspect the cables for condition and proper adjustment, then lubricate with a good silicone spray. Finally, if the unit is equipped with pneumatic tires, check the air pressure and overall condition of all tires.
Wheel bearings should also be examined for wear. Inspect tines or blades and replace if necessary.
Taking time to service each piece of equipment prior to use can save a lot of downtime and frusration and will get you off to a good start this spring season.
—Danny Spiwak, Billy Goat Technical Service Manager
-Information provided by Billy Goat Industries