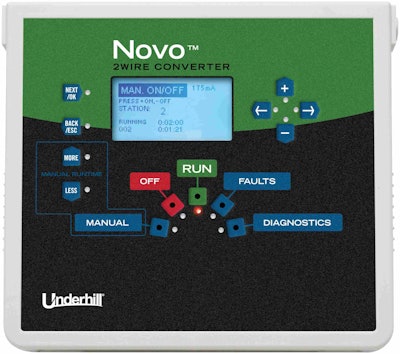 Novo, a compact two-wire converter from Underhill International, is designed to transform any standard multi-wire controller to two-wire operation by using a "plug-and-play" feature.
Controllers such as Hunter, Rain Bird, Irritrol, Toro and other popular brands, can be converted to total two-wire or hybrid two-wire / multi-wire systems when connected to Novo.
The new Underhill converter is a solution for irrigation installers who plan to use two-wire technology in a new installation or a system expansion because they can still use their favorite controller. Novo installs alongside the host controller and handles up to 32 two-wire stations.
The host multi-wire controller continues to run all scheduling programs and "talks" to the new two-wire valves and decoders via the Novo converter.
The device is useful in irrigation system expansions where it is more practical to add two-wire connections, rather than run new multi-wire to additional valves on large commercial sites, parks or sports fields. Two-wire is also useful on projects with new external devices, such as soil moisture sensors and hydrometers.
Measuring just 6.3 inches high x 7.33 inches wide x 1.78 inches deep, Novo features a back-lit graphical display with step-by-step LightTouch buttons and built-in electrical diagnostics / fault finding. Novo plastic wall mount cabinets and external transformers are also available.
Novo has the capability of handling up to a 63-zone system if the host controller has the station capacity by using Underhill senders.
Two-wire installations require less labor and materials because the 24 VAC power and address signals are sent over the same pair of wires. Novo uses standard underground irrigation wire and it is not necessary to ground field decoders.