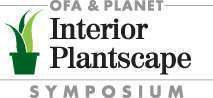 April 11 will mark the third annual OFA & PLANET Interior Planstscape Symposium at Longwood Gardens in Kennett Square, Pennsylvania.
The deadline to register is April 1, and no walk-ins will be accepted.
Dual-tracked sessions will provide training and business skills specifically for interiorscape technicians and business managers.
Some topics covered include reading pesticide labels, writing winning proposals, latest techniques for indoor plant care, designing extravagant displays, pest management and beneficials, hiring and keeping employees, motivating without money and understanding your clients.
Presentations will be by Bernie Erven; Kathy Fediw, LEED AP, Landscape Industry Certified Manager & Technician; Mike Leventry and other Longwood Gardens personnel; Christopher S. Raimondi, Landscape Industry Certified Manager; and Suzanne Wainwright-Evans.
For those interested in earning Pesticide Credits and CEUs can contact PLANET.
For a complete schedule of the symposium, click here.