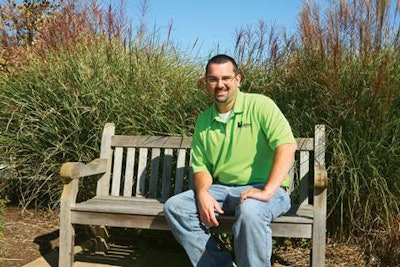 In a room full of boisterous contractors meeting to discuss a big commercial-building project, you might not notice Michael McAfee at first. "I have kind of a laid-back personality, and I listen carefully to what people have to say. Most people think I'm a quiet person; I don't toot my own horn," says the 28-year-old owner of McAfee Mowing and Landscaping in Danville, Kentucky, and a TLC Landscaper of the Year Finalist.
But McAfee is more than capable of holding his own when it comes to his company and employees. "I don't let others run over me just because I'm usually the youngest one there," he says. "Some guys think they can push work off on me that they didn't figure in their own pricing for the job. That's when I speak up, when it relates to something that will hinder or help us do our part of the job."
Listening and Learning
Not only is McAfee tactful and a careful listener, he's also a quick learner. His company grossed nearly $1.5 million last year, coming a long way in a short period of time.
While still in high school, he incorporated and took over several mowing accounts that his father, a high school teacher, had established in his off time. "I was more focused on running a business than partying," he says.
And while still living at home with his parents, he worked at nights taking online courses to receive an undergraduate degree in landscape architecture from North Carolina State University in 2007. Then, he proceeded with more online classes and received an online certificate in sports field management.
"But I've had to teach myself a lot of things in this business," McAfee says. "A good 60 percent of what I do, you don't learn in school, you learn from hands-on experience and trial and error."
Danville, Kentucky, is perhaps best known in recent years for hosting two vice presidential debates at a local college, but it's primarily an area defined by agriculture with assorted residential developments. McAfee quickly calculated he could mow all of the local lawns from dawn until dark and never build his business into a prosperous enterprise.
So he took a different track.
He learned how to bid on commercial accounts, such as athletic fields and churches under construction. "Now, we're about 85 percent commercial and 15 percent residential," McAfee says. He typically runs three crews with three employees each, capable of handling every aspect of commercial landscaping, from grading and turf establishment to irrigation and drainage issues.
His work covers the whole state and includes some 500 clients. McAfee and his full-time mechanic, Eric East, man the office in downtown Danville that once served as a gas station.
Tools of the Trade
He belongs to the Builders Exchange of Kentucky, a construction trade association with more than 1,000 members of contractors, subcontractors, material suppliers, manufacturer representatives and others engaged in the commercial and industrial construction industry. McAfee uses the exchange to keep up with and bid on various projects, often two to three years before construction starts.
Current projects include landscape work for the St. Catharine College Kentucky Library and the Kentucky National Guard Readiness Center in Burlington, Kentucky.
"I don't want to win 10 out of 10 bids," he says. "That tells me my numbers are too low. I want to be winning every other bid. That tells me I'm in the ballpark."
And since his project time frame ranges from one to three years out with so many commercial accounts, his ability to manage cash flow is critical. "I've seen a lot of other contractors go under because of it since I started this business. We often don't get paid for up to 90 days after invoicing the main contractor," he says. "An example of how I have to figure bids would be pricing plant materials. Since they may not be installed for up to three years from the original bid, I ask vendors to lock in prices, and most of them will because of the volume we require."
McAfee's equipment fleet includes two skid steer loaders, a John Deere 5210 tractor, four Exmark Lazer mowers, a specialty reel mower for golf course and athletic fields, four medium to 1 1/2-ton trucks, snowplow equipment and a Ditch Witch 410 for irrigation jobs.
Hometown Pride
One of the most visible examples of McAfee's client portfolio is the streetscapes of Danville. This past October, the day of the vice presidential debate, visitors strolled by lamp posts with hanging planters vibrant with color and curbside beds of purple and white mums. The night before, a light frost had blanketed much of the plantings, and early the next morning, McAfee's crews were out spraying water on them to maintain as much color as possible.
McAfee takes great pride in all this and has made giving back to his community a priority. "We loan equipment, trimmers and sometimes mowers to schools and the parks to do maintenance of athletic fields and other public areas. With the budget cuts hitting them, helping out any way we can means so much to them, and they appreciate it."
He doesn't try to compete with the "mow-and- blow" guys with a mower and a pickup truck. When people comment that we're not the lowest price on residential jobs, I think, 'That's fine,' because more than once, a couple of weeks later, we received a call for help from that person to come and fix something another contractor put in with a low-ball bid.
"We don't want to be known as the cheapest; we are known for the quality of our work and ability to hit budget," he says.
As for the future, McAfee would like to add at least two more offices to better serve his key market in central Kentucky. He also plans to ensure his employees keep growing and learning, as well. "I want to see them attending conferences and seminars to earn certifications as field technicians and supervisors from PLANET and other associations, and to learn better ways to communicate with customers.
"I define success as having repeat customers," he says, "and having happy employees who are excited to come to work. While money is important, the job has to be about more than that."
To learn how to become a finalist in Total Landscape Care's Landscaper of the Year program, click here.