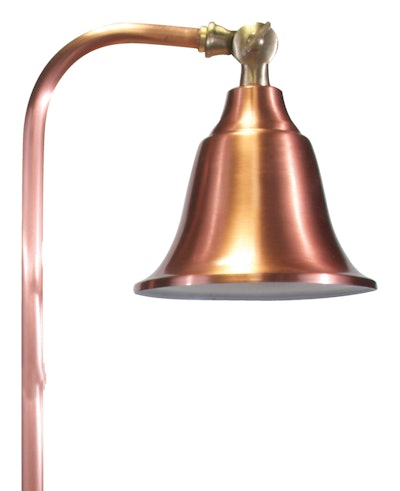 Orbit Industries introduces Model 114, a new LED-ready pathlight with a choice of copper or architectural bronze finish.
The fixture is equipped with a halogen JC bi-pin lamp and also accepts an LED bulb. The LED lamp delivers 1.6 W of illumination, equivalent to 10W incandescent.
The bell-shaped shade measures 4.5" high x 5.25" wide and has a heavy glass dome covering the lamp. A 22-inch stem complements the shade and is also available in either copper or architectural bronze. Durable GS-10 spikes are included, and a brass-finished swivel and key connect the shade to the stem.
LED lamps have the advantage of lasting up to 50,000 hours, are cool running and can save up to 85 percent in energy costs when compared to incandescent bulbs. Advances in LED color rendition have also improved the lighting effects with warmer, more traditional illumination.